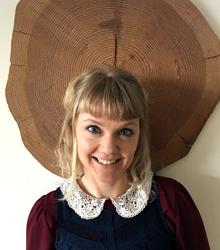 Expanding our presence in the Pacific Northwest is a goal for 2017. Adding Snow Blackwood as our first west-coast based marketing manager is a natural next-step
Portland, OR (PRWEB) January 05, 2017
The former editor and creative director for Oregon Home magazine recently on-boarded with Pioneer Millworks and sister company New Energy Works Timberframers at their west coast operation in Portland, Oregon. Blackwood was familiar with the company through her role at Oregon's longest standing statewide shelter magazine Oregon Home and had met with New Energy Works and Pioneer Millworks founder, Jonathan Orpin on several occasions to discuss innovative projects they were working on.
"I was impressed with Jonathan's energy for his work and his involvement with his company. It's this kind of passion that gets things done," explains Blackwood.
Blackwood will work closely with Orpin and the east coast marketing team in designing new events, marketing strategies and stories related to community and company issues in sustainable wood products and practices. "Expanding our presence in the Pacific Northwest is a goal for 2017. Adding Snow as our first west-coast based marketing manager is a natural next-step. Her creative talents, evident in her former role, and her natural passion for design will be a great addition to our team," says Orpin.
Blackwood will use her background in graphic design, writing, and marketing to bring even more energy to Pioneer Millworks and New Energy Works and help define their environmental mission as a leader in sustainable wood products and practices.
"Moving into an innovative and environmentally sensitive industry was a desire of mine and this seemed like a perfect fit, with my experience at the magazine and my background in wood. My mother was a woodworker and taught woodshop at my local middle school in Mulino, Oregon," continues Blackwood. "As a native Oregonian growing up in rural Willamette Valley, I've always felt a strong connection with our forests. This is a way I can continue that connection and help curb deforestation."
About Pioneer Millworks:
Pioneer Millworks is the leader in the reclaimed wood industry. To date, they've rescued nearly 26 million board feet of old wood from rot and landfills, giving it new life as flooring, paneling, millwork, cabinetry, and more. All wood is manufactured in a way that's healthy for customers, employees, and the environment. Pioneer Millworks is FSC-certified and Green America approved. All of their products are LEED point eligible.
About New Energy Works Timberframers:
New Energy Works Timberframers have been designing and building environmentally responsible timber frames across the USA for more than 30 years from their facilities in New York and Oregon. Offerings include: Timber Framing (design, engineering, manufacturing, and build), Enclosure Systems, Fine Woodworking, and Recycled and Sustainable wood products. New Energy Works has LEED AP staff members, is a member of the US Green Building Council, and is FSC-certified.