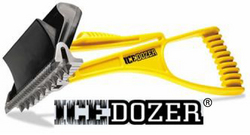 We've spent hundreds of thousands of dollars to develop and manufacture a premium product, and we're making it right here in America
Havertown, Pennsylvania (PRWEB) October 27, 2008
Consider the common windshield ice scraper. What probably comes to mind is the image of a commodity-type product: inexpensive but only so-so effective and needing frequent replacement, cheaply mass-produced offshore. The archetypical throwaway plastic product from the age of plenty.
Nothing about the Innovation Factory's IceDozer® fits this mold.
"We've spent hundreds of thousands of dollars to develop and manufacture a premium product, and we're making it right here in America," says Marvin Weinberger, Inventor-in-Chief of the privately held Innovation Factory.
"We could save 50% or more by manufacturing in China or another offshore location,'' Marvin continues, ''but our U.S. suppliers provide us parts of exceptional quality with a quick turnaround. In fact, the IceDozer has been designed and tested to be so durable that it comes with a Lifetime Replacement Guarantee, unprecedented in the industry. Once a consumer buys the IceDozer, they'll never have to buy another ice scraper.
"We have found that customers are willing to pay a one-time premium for a superior product that gets the job done and really lasts. Hence the slogan for our new ad campaign: 'Got Winter? Work Smart!'.
"By manufacturing within the U.S., we reduce greenhouse gas emissions through eliminating the need for transporting products from overseas. And because our products don't need constant replacement, we're saving on the energy of manufacturing as well as conserving the hydrocarbons from which plastic is made. Of course, we're only too glad to help reduce the mountain of broken ice scrapers (from other manufacturers) that end up cluttering landfills each year.
"We're just about to expand IceDozer production at a newly contracted manufacturing site in southern Ohio. This will be in addition to the work being done here in Pennsylvania. Our distribution is handled through facilities in Kentucky and New Jersey while we have ongoing research and development involving contractors in Massachusetts, New Hampshire, Indiana, Michigan and California. I guess you can say that we're doing our part to help spread the wealth around," concludes Weinberger.
Winter can be lovely, except when you find it all over your windshield. Sure, common sense tells you that you need complete visibility, but it's cold, the kids are complaining or you're running late for an important appointment. There's no end to excuses for wanting to avoid the loathsome task of scraping ice and snow from the windshield.
That's why the IceDozer was invented. With its patented FlexiBlade™ (which automatically adjusts to the curvature of any windshield), ergonomic grip and triple attack surfaces, the scientifically designed IceDozer® makes quick work of windshield ice.
Also available is the top-of-the-line IceDozer Plus. This product incorporates a detachable multi-tool called the PocketDozer™. Features include a brush with plush bristles as well as a scraping blade for tackling hard-to-clear areas such as the side mirrors and headlamps. The PocketDozer also incorporates a special notch for clearing ice chunks off of the windshield wipers.
The IceDozer and IceDozer Plus can be purchased online at http://www.innovationfactory.com ; shipping is always free when ordering two or more of these products. The IceDozer is also available at select retail stores, including Bed, Bath & Beyond.
Innovation Factory is located at 630 Penfield Ave., Havertown, Pennsylvania 19083. For more information, contact Marvin Weinberger at 610-789-1137, or visit our website, http://www.innovationfactory.com .
Free product samples for members of the working press: contact marvin@innovationfactory.com
For accompanying images & graphics: http://www.prweb.com (search 'IceDozer') or contact marvin@innovationfactory.com
###