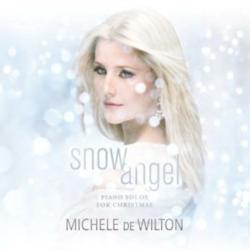 "Snow Angel speaks to the season. I have so many traditional holiday favorites...when the 'Thanks' piece emerged, this longer seasonal approach just began to feel right to me."
Los Angeles, CA (PRWEB) November 22, 2011
In her quest to create an evergreen album that captures the full magic of the winter holidays, Michele de Wilton gives us the gift of Snow Angel, featuring a welcoming mix of Holiday nostalgia and instrumental delights under the larger umbrella of New Age, Holiday, and contemporary solo piano genres.
It's no easy feat to create a unique holiday album, but de Wilton has succeeded with Snow Angel (released on Michele de Wilton Records, November 22, 2011) by encapsulating the entire season, from Thanksgiving through New Year's and on into the late winter. Her signature style – creating vivid, storytelling imagery with piano – is at its richest on this mixture of traditional Christmas carols and winter-themed original works. As a bonus, fans are treated to a free download of "Thanks" on her official website, and a live bonus track of "The Ice Maiden" on the CD.
Speaking by phone from her studio, de Wilton says simply, "Snow Angel speaks to the season. I have so many traditional holiday favorites. I was enjoying 'de Wilton-ing' a few of them with new arrangements when the 'Thanks' piece emerged, and this longer seasonal approach just began to feel right to me."
As her fans will gladly tell you, de Wilton's innate ability to tell a story without words is her unique gift. The Columbus, Ohio-based pianist draws inspiration from a global education growing up in South Africa, Greece, England, and later, in the U.S. For this album, she taps into the magical, legendary, and folkloric sensibilities and stories surrounding the Holiday season—particularly the poignancy of wintertime—in an aural kaleidoscope that conjures up images of tree-trimming, carolers, Christmas parades, and glistening landscapes of icy snow.
Recorded in July and September of 2011, Snow Angel is a one-of-a-kind album that was created and compiled in order to follow the chronological period of Thanksgiving, Christmas, and New Year's. For instance, the opening track, "Thanks," is cleverly-titled for the Thanksgiving holiday. "Thanks" is a previously-unrecorded song with a sweeping and joyous melody that sets the stage for the rest of the album—and season. "Snowfall" is another new original song in which de Wilton evokes imagery of a freshly-shaken snow globe with high notes signifying falling flakes of snow. The cascading piano melodies and twinkling sound effects of the keys connote snowflakes falling at various speeds—all in a cinematic framework of imaginative ingenuity with the likes of Danny Wright and Thomas Newman. In fact, the artist made a special effort to capture the "crystalline" sound by re-recording it on a superbly restored 1909 Steinway Model B piano perfect for reaching the clearest high notes. "Winterbluegreen" embraces a slow and pensive melody that is as gentle as snowflakes tumbling across a frozen plain. The instrumental song, previously released on de Wilton's Daydream album, was inspired by "Blue Winter," a poem by Robert Francis.
The traditional Christmas carol favorites are decked out in all their glory and performed with an amazing array of genuineness, harmoniousness, and joyous piano playing. "Angels We Have Heard on High" is a classic that Michele keeps relatively traditional, but not without infusing a melodious mix of ear-friendly notes. The following piece, "O Holy Night," is another traditional song that awakens the child-like spirit in all of us, along with "Good King Wenceslas." Notably, the harp-like embellishments produced on the piano in this piece are stellar. The next set of songs—"O Come, O Come Emmanuel," "God Rest Ye Merry, Gentleman," and "What Child Is This"—is a running arpeggio of holiday enchantment.
Michele pays homage to the Hans Christian Andersen fairy tale, The Snow Queen, on "Waltz for Gerda & Kay," the third original piece on the album. The story involves issues of good and evil, relationships, and love; Kay and Gerda display love for each other, despite Kay's abduction by The Snow Queen in her ice palace. The ambulating and seemingly somber piano tones resemble the tinkling sounds of icicles forming, expanding, and breaking. In a similar manner, Michele's inspiration for including "In the Bleak Midwinter," stems from a childhood experience at the age of 8, while learning the carol based on a poem by Christina Rossetti in a school in Greece. According to de Wilton, "The heat quit… and it was cold." Perhaps the warm, sweeping piano melodies in this piece can give an uplifting feeling to make it through life's rough spots… especially in the season's midwinter blast of arctic air.
De Wilton includes one live bonus track on the album, "The Ice Maiden," inspired by a Norse myth about a frost goddess. First recorded for her debut album, Myths and Legends, during a snowstorm at the Chicago Recording Company in 2008, de Wilton admits that she prefers this live track over the other, and was excited to find a reason to share it with her fans. On "Winter Bloom (Lo, How A Rose E'er Blooming)," de Wilton's creative licensing soars high, with the song mixing original and traditional melodies that are finely-tuned and interwoven.
At the end of the Holiday season, Michele creates a celebratory homage for the New Year with the addition of "Auld Lang Syne." The traditional New Year's Eve ode is full of rippling piano melodies that wax and wane with delicate emotion in an almost reflective manner, promising renewal for the year ahead.
In support of the new album, de Wilton planned a series of live shows beginning with a launch event at Franklin Park Conservatory on Sunday, November 20th at 2 p.m., and an evening show at Brothers Drake Meadery on Thursday, December 1 at 8 p.m.; both sites are based in Columbus, OH.
The stunning package design by Merge Design & Interactive, and photography by Brian Kuhlmann deserve special mention, as both lend to the highly gift-worthy look and feel of the CD.
Snow Angel will be released on Michele de Wilton Records, November 20, 2011; it was recorded on a 1909 Steinway Model B and at the Chicago Recording Company on a Steinway Concert Grand. The album was engineered and mixed by Dennis Tousana, mastered by Steve Sundholm, and manufactured by TSI.
Links:
http://www.micheledewilton.com - Official Artist Website
http://www.facebook.com/#!/pages/Michele-de-Wilton/26000011732 - Official Facebook Page
http://www.reverbnation.com/micheledewilton - Reverbnation
http://itunes.apple.com/us/artist/michele-de-wilton/id289424939 - iTunes
http://www.myspace.com/micheledewilton - Myspace
# # #