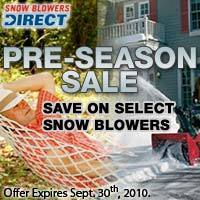 Shoppers at SnowBlowersDirect.com will be rewarded for shopping early before the snow starts flying with some of our lowest prices of the year
Bolingbrook, IL (Vocus) August 31, 2010
It still may feel like summer, but that's not stopping SnowBlowersDirect.com, a leading online snow thrower superstore, from slashing prices on select single-stage and two-stage snow throwers from leading manufacturers like Ariens, Husqvarna, Toro and others.
While most people are still focused on mowing their grass and maintaining their lawns, there are deals to be had for bargain shoppers looking for a new snow thrower for the upcoming winter.
"Shoppers at SnowBlowersDirect.com will be rewarded for shopping early before the snow starts flying with some of our lowest prices of the year," said Jon Hoch, founder and CEO of SnowBlowersDirect.com. "Right now we have a great selection of snow throwers at terrific sale prices."
It's never too early to start shopping for a snow thrower, especially given the cold, snowy winters the past two years.
If you missed out on a new snow thrower last year due to the huge demand and shortages of product, now is your chance to lock-up the model of your choice early so you have it for the entire winter season.
Visit our snowblower sale page to see the wide selection of snow throwers on sale now at SnowBlowersDirect.com. Hurry, this sale ends September 30, 2010.
Power Equipment Direct operates nine niche online superstores. In addition to SnowBlowersDirect.com, the Bolingbrook, IL-based company operates AirCompressorsDirect.com, ElectricGeneratorsDirect.com, PressureWashersDirect.com, MowersDirect.com, WaterPumpsDirect.com, SumpPumpsDirect.com, ChainSawsDirect.com and LogSplittersDirect.com.
###