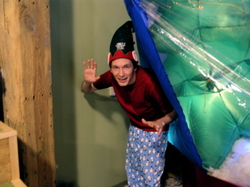 It was so much fun spreading holiday cheer to everyone around the world.
Durham, NC (Vocus) December 14, 2007
What started as an eco-friendly, digital holiday card has ended in a Web phenomenon and world record.
McKinney announced today that Ben Eckerson has completed his attempt to become the world record holder for the longest time spent inside an inflatable snowglobe. The 24-year-old broadcast producer at Durham-based ad agency McKinney ended his effort after 78 hr. 30 min. inside the globe. His exit from the globe, as well as his entire round-the-clock stay was on display at McKinney and through a web site hosted by McKinney at http://snowglobeboy.mckinney.com . There, visitors saw live audio and video streams of Eckerson ("Snowglobe Boy") inside the globe. The site also provided interaction with through a chat application and blog posts. At close of business today, tens of thousands of visitors had visited the site from over 19 countries.
"Snowglobe Boy captured the hearts and imaginations of our agency's clients, our friends and holiday lovers from all over the world," said Brad Brinegar, McKinney Chairman and CEO. "We're excited to have created a holiday card that served its 'green friendly' purpose and created a completely unique conversation between the agency and people everywhere."
"Thank you to everyone for making this world record happen," said a tired yet jubilant Eckerson. "It was so much fun spreading holiday cheer to everyone around the world." Eckerson urged his new friends to keep spreading the holiday cheer by giving to their favorite charities. He said McKinney plans a donation to the Durham-based Center for Child and Family Health (http://www.ccfhnc.org).
About McKinney:
McKinney is an advertising agency pioneering the industry in conversation planning, the art and science of building strong emotional and transactional connections between brands and the right people.
Founded in 1969, the Durham-based agency has created some of the most innovatively integrated marketing communications programs, including Audi of America's Art of the Heist, Travelocity's Roaming Gnome, the Polaris CEO Duel and the launch of the Sony BRAVIA LCD TV. McKinney's clients include Audi of America, Brown-Forman Corporations' Southern Comfort, Coldwell Banker, Full Frame Documentary Film Festival, Major League Gaming, The NASDAQ Stock Market, Qwest Communications, Select Comfort, Travelocity, Virgin Mobile USA and Virgin Atlantic Airways. Two-time winner of the Yahoo! Creative Summit and one of the top EFFIE winning agencies in 2007, McKinney's work is also recognized by the Cannes Advertising Film Festival, the New York ANDY Awards, the One Show and the Interactive Advertising Bureau's MIXX Awards, among others.
McKinney is an independent operating subsidiary of Havas, the sixth-largest advertising and communications group in the world. For more information, visit our Web site at http://www.mckinney.com.
Contact Information:
Janet Northen
Phone: 919-313-4062
Email: janet.northen @ mckinney.com
# # #