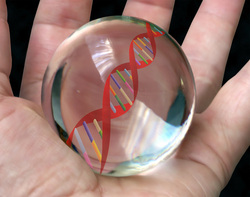 the clear winner in all three categories
Bethesda, MD (PRWEB) May 22, 2008
Mike Cariaso's use of the program 'Promethease' to analyze an individual's DNA was deemed best by 23andMe, a personal genomics company that recently held a "Describe Lilly Mendel" contest. The challenge was to describe Lilly Mendel - a fictitious name for a real person - based only on the genetic information determined by 23andMe.
Akin to gazing into a genetic "crystal ball", Promethease predicted Mendel's propensity to various medical conditions as well as likely personality traits and physical characteristics, which Cariaso then edited in a humorous manner. Judged by accuracy, creativity, and cleverness, Cariaso's entry was deemed "the clear winner in all three categories".
The entry may be viewed in full at the Promethease/Mendel webpage ; it includes predictions for looks (blue-eyed Caucasian with brown hair), likes (staying up late at night, eating ice cream), and health issues (cancer and other disease risks as well as drug sensitivities).
Promethease is designed to be used by an individual to perform completely confidential genetic analysis. It is a stand-alone application that takes the raw genetic data produced by any of the major personal genomics companies and then analyzes it in light of all the data collected in SNPedia. Recently recognized at the 2008 Bio-IT World Best Practices awards, SNPedia is the largest peer-annotated database of medically relevant genetic associations. These associations are primarily based on 'SNPs' (Single Nucleotide Polymorphisms), which are relatively common inherited variations at a single position in a person's DNA that researchers can link to disease and other predispositions.
Promethease and SNPedia are products of River Road Bio. They are freely available for non-commercial use by individuals while also available for licensing by companies. More information about both resources can be found at SNPedia.
About River Road Bio (RRB): RRB is a privately held company specializing in the analysis of an individual's genome.
Contact:
Greg Lennon, River Road Bio/SNPedia
TEL: (301) 922-3791
FAX: (240) 465-0788
http://www.SNPedia.com
###