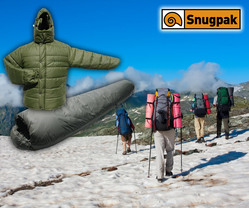 (PRWEB) March 8, 2011
Snugpak, Europe's sole sleeping bag manufacturer, now include their entire range of sleeping bags in the products supplied with their own compression stuff sack.
Snugpak have an enviable reputation for the quality of their sleeping bags and outdoor clothing and equipment. They are the last European manufacturer of sleeping bags within Europe with the renowned Softie range.
Snugpak make their Softie high-quality sleeping bags in the UK using state-of-the-art machinery for quilting and traditional sewing techniques for assembly.
The Softie sleeping bag ranges use combinations of high-tech Paratex fabrics, space-age Reflectatherm technology and exclusive Softie Premier insulation to ensure years of effective use.
The Snugpak Softie Chrysalis range, including the Snugpak Softie Autumn Three-Season Sleeping Bag, is the most versatile in the Snugpak catalogue.
The Chrysalis sleeping bags offer the ability to respond to warmer conditions by expanding the bag considerably. A stretchy panel of insulated material can be unfolded to give more room and therefore to have cooler air around the body. The reverse operation is then also of course available should you wish to counter a drop in temperature.
Like all Snugpak sleeping bags, the Softie ranges are supplied in compression stuff sacks.
Snugpak sleeping bags cater for all needs and price ranges.
There are very popular entry-level Snugpak sleeping bags such as The Sleeping Bag and the Navigator but despite their lower price, these bags still show off their Snugpak heritage with the quality of the materials and construction, integrated pocket and left and right hand options.
The Snugpak Sleeper series introductory bags for the Performance range feature highly siliconised synthetic fibres that give a soft touch and prolonged lifespan compared to traditional hollowfibre-filled products.
Travellers are very well catered for by Snugpak sleeping bags through the TravelPak range of lightweight bags (from 850 to 1100 grams).
Families are not forgotten either with the Snugpak Laponie collection of sleeping bags for adults. The range includes female-specific and child-specific bags with appropriate anatomical and length adjustments to the standard fit and the junior version has a choice of square or mummy shape.
Snugpak have an enviable reputation among the armed forces for their Code Green range of military sleeping bags that includes the stunning Antarctica RE with its extreme temperature rating of -50°C.
Finally, Snugpak support their sleeping bags with a range of liners in different materials, such as fleece, silk, Thermalon and cotton, to increase the versatility and temperature range of any of their bags.
###