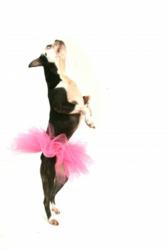 Dogington Post encourages it's readers to participate in National Dance Day in a slightly different way - by dancing with their dogs!
(PRWEB) July 26, 2012
Nigel Lythgoe, judge and executive producer of the hit dance contest television series, So You Think You Can Dance, created National Dance Day. It was introduced as a resolution by Congresswoman Eleanor Holmes Norton to promote dance education and physical fitness.
National Dance Day occurs on the last Saturday of July, this third annual event falling on the 28th of the month this year. Two official National Dance Day routines have been commissioned by The Dizzy Feet Foundation, a Zumba Fitness® routine and a Hip-Hop routine. Dizzy Feet Foundation invites anyone and everyone willing to participate to learn the routines; submit their own dance videos; and celebrate the day to spread the message of dance and movement.
Dogington Post, however, encourages its readers to participate in a slightly different way – by dancing with their dogs. The online dog news site is a long-time proponent of fitness for dogs. Dogington Post sees the popularity of National Dance Day as a way to further encourage fitness and fun with pets. The site reaches over 1.6 million dog lovers every week. This latest effort is designed to reach out to those dog lovers to promote them to play with their dogs in new and interesting ways and, most importantly, to encourage dog fitness.
"Obesity is considered the number one killer of dogs," says Brandy Arnold, Editor for Dogington Post, "The Dogington Post is a highly popular venue that advocates health and wellness to millions of dog owners. We encourage our readers to participate in any healthy activity with their dogs, even National Dance Day."
The dog news website features articles on how to dance with your dog, fun videos of dancing dogs, and other fitness activities pet parents can do with their dogs. Dogington Post invites readers to submit videos of their dogs dancing in honor of National Dance Day.
Dogington Post also gives readers tips on how to include their dogs in a workout; the effect of obesity on a dog's health; how to tell if a dog is overweight; ideas for exercising an overweight dog; and even a piece on Dog Yoga.
For more information about Dogington Post and their latest efforts to promote pet fitness on National Dance Day, visit http://www.dogingtonpost.com and check them out on YouTube.
About Dogington Post:
DogingtonPost.com was created for the love of dogs. It promises a forum of informative articles, newsworthy dog stories, health and breed information, and heartwarming videos. The site addresses current issues affecting dogs and their human parents – from serious health concerns to lifestyle issues on feeding, grooming and the overall well-being and mental health of dogs. It is the Internet newspaper, all about dogs.