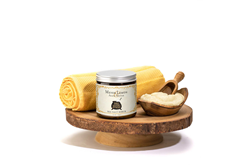 Here at Soap Cauldron, our aim is to bring the calming, soothing benefits of a luxury spa treatment to your home.
SONOMA COUNTY, Calif. (PRWEB) December 13, 2018
Sonoma County-based Soap Cauldron™ (http://www.soapcauldron.com), in association with The Artisan Group®, is excited to celebrate the launch of its natural, artisan made Sea Salt Scrubs with its participation in GBK's 2019 Golden Globes Luxury Celebrity Gifting Suite. The event takes place January 4-5, 2019 at an exclusive location in Beverly Hills.
Soap Cauldron will have its Three Sisters Apothecary Sea Salt Scrubs on display at the Artisan Group exhibit. A four-ounce, travel size sea salt scrub in Meyer Lemon will be included in The Artisan Group's coveted celebrity and press swag bags. Recipients will find their Sea Salt Scrub thoughtfully packaged in an attractive, ecologically conscious container that is perfect for home spas or for taking on the road.
Three Sisters Apothecary Sea Salt Scrubs come in three evocative scents, Meyer Lemon, French Lavender and Eucalyptus & Mint. Each combines precious essential oils with natural botanicals, gourmet oils, butters, and mineral rich Ocean and Epsom salts to detoxify surface skin and reveal the radiance beneath.
Enriched with calcium, magnesium, potassium, copper and iron, the Scrubs blend fatty-acid rich Shea Butter with intensely moisturizing Jojoba, Avocado and Borage oils to leave skin hydrated and smooth. Ultra-luxurious, they gently exfoliate while deeply cleansing and nourishing all over.
Emma Mann, soap artisan and founder of Soap Cauldron said in a statement, "Here at Soap Cauldron, our aim is to bring the calming, soothing benefits of a luxury spa treatment to your home. Our Sea Salt Scrubs are a great way to deep cleanse and re-energize. Add them to the bath for a relaxing spa experience or apply them in the shower as an all-over treatment that leaves skin soft and radiant."
Full size (16 oz.) Sea Salt Scrubs retail for $16.00 and are available to purchase online at soapcauldron.com and Etsy.com, as well as at Fine Natural Food retailers in the Northern California region, including Oliver's, Rainbow Grocery, Good Earth Natural Foods and many other fine small retailers.
Three Sisters Apothecary's soap, body butter and lip soother are available for holiday gifting and beyond as part of a four piece boxed gift set. Scents include Meyer Lemon, French Lavender, Lemongrass, Gravenstein Apple, Mission Fig, Santa Rosa Plum, Dark Chocolate & Mint, and others. The company's Boxed Gift Sets were featured in DAYSPA Magazine's 2018 Holiday Gift Guide. Its French Lavender Soap was been mentioned as a "Best Buy" on Lucky.com and made the Huffington Post list of 2017 Chic Hostess Gifts.
Soap Cauldron is a recipient of a Whole Foods Markets Northern California 2017 Local Producer Grant presented by Working Solutions.
At GBK's 2018 Oscars Gift Lounge, a Three Sisters Men's Shave Suite was gifted to, among others, Alexander Desplat (Award Winner, Best Original Score, "The Shape of Water"), Tobias Rosen (Nominee, Best Action Short Film, "Watu Wote/All of Us"), and Patch Darragh ("Cam", "Longmire", "The Path"). The Shave Suite was also included in celebrity swag bags at GBK's 2018 Golden Globes Gift Lounge, where giftees included Randy Jackson, Bruce Dern, Marcus Scribner, Matty Cardarople, and Sam Lerner.
All Soap Cauldron products are certified cruelty free by Leaping Bunny and are produced to the highest quality standards while adhering to the concepts of sustainability and environmental consciousness.
To learn more about Soap Cauldron, contact Emma Mann using the email button top right. Become a fan on Facebook, Twitter, Instagram (@soapcauldron) and Pinterest (@soapcauldro0061).
For press inquiries regarding The Artisan Group, visit theartisangroup.org.
*Neither Soap Cauldron nor The Artisan Group are officially affiliated with the Golden Globes or the Hollywood Foreign Press Association.
ABOUT SOAP CAULDRON
Sonoma County based Soap Cauldron™ (http://www.soapcauldron.com) is community based and family owned. Creating handcrafted soap since 1999, the company takes ingredients from nature and transforms them into nourishing and gentle products that gently cleanse and pamper the skin. The company is also the creator of Soapy Tails, an all-natural line for canine bath and coat care.
Soap Cauldron products are made naturally and packaged in an environmentally sound manner with the smallest carbon footprint possible.