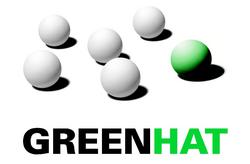 Companies should seek different answers from their test automation vendors. No longer is the question 'can you' automate the testing of a particular SOA deployment, but 'how efficiently' can you automate?
London, England and Claymont, Del. (PRWEB) April 29, 2009
Green Hat, the originator of automated testing technology for integration and SOA (Service Oriented Architecture), today announced the general availability release of the fifth generation of its core offering, GH Tester.
Keeping Green Hat's tradition of introducing industry firsts in each new release of existing offerings, GH Tester 5.0 introduces several firsts to make testing simple for complex business processes that run on multiple SOA technologies, including the first coverage reports for popular SOA platforms. In addition, GH Tester 5.0 sets new levels of efficiency, quality and sustainability as organizations demand concrete results and a direct contribution to growth and cost-cutting measures from SOA.
"Companies should seek different answers from their test automation vendors. No longer is the question 'can you' automate the testing of a particular SOA deployment, but 'how efficiently' can you automate?" said Peter Cole, President and CTO of Green Hat. "How much coverage can your test automation product give you in the shortest period of time? Companies need to optimize the coverage-time relationship: getting the quality they want easily and in the shortest time."
GH Tester 5.0 is the first SOA test automation product to include coverage reports for popular SOA platforms such as Software AG and TIBCO to allow them to measure how effective their automation efforts are. This is particularly valuable where testing may be done by a third party. Managers now have real metrics to give them confidence about quality.
Green Hat customers routinely experience efficiency gains in excess of 50% at any stage of testing. For example, tasks related to complex data field management were reduced from weeks to hours. Customers see error rates drop with each release, even down to an unprecedented Six Sigma level of zero. Productivity gains as high as 400% benefit from both reduction of effort and ability to complete more testing.
Those efficiency gains, positive customer experience using Green Hat solutions and the company's commitment to technology innovation and product updates has fuelled demand for Green Hat solutions in recent months.
"GH Tester 5.0 takes these achievements to the next level with new kinds of automation across the SOA lifecycle. With today's fast and frequent release schedules and BPM initiatives, and growing reuse of services in governed environments, these gains compound to deliver a noticeably lower Total Cost of Ownership (TCO) of complex business processes," Cole said.
New in GH Tester 5.0 are:

Testing in minutes - Test cases can be created, assembled into test suites, data managed, tests run and rerun, and results produced in literally minutes. Test generation is automated with wizards - not coded or scripted - from various source documents, WSDLs and actual composite business processes.
System diagrams - GH Tester 5.0 introspects all the connections and paths, revealing system dependencies. Abstract trees have been replaced with the same intuitive system diagram that people use to describe the system interactions to one another.
Coverage reports - These are the first coverage reports available for integration and SOA testing. Business processes contain multiple sub-processes and branches within those. GH Tester 5.0 allows users to match the level of testing effort to goals supported by coverage data and risk assessments.
Simulation enhancements - Green Hat invented simulation to automate stub creation. GH Tester 5.0 takes this further, eliminating coding for complex processes. Creating virtualized environments for functional or performance testing is a superior offering given the automated nature of creating simulation assets and the native visibility into numerous SOA and messaging technologies. Connections and integrations occur between internal systems, externally with third parties and virtually in the cloud. Tests can be run in multiple environments.
Unique policy compliance automation - Most testing solutions focus on running tests (real time or batch) from the governance platform, but SOA governance needs to focus on certifying that services are "Ready for Reuse" according to stated policies. Green Hat introduces pre-built Quality Policies that can be parameterized by each organization to suit their quality objectives. These levels of quality are then enforced by the governance solution.
"We believe that the tipping point in SOA testing has occurred," said Cole. "Organizations want to fast track a more pragmatic approach to SOA even as they are adding more SOA technologies into their environment. They want all the lessons learned to benefit their next business process transformation."
These benefits are not gained by product alone. It has been proven time and time again on customer engagements that tools will only get you part of the benefit. A proven methodology utilising the tool throughout the SOA and integration lifecycle is the best way to reduce integration risk, the biggest cause of delays on these types of projects. Green Hat's SOA Success methodology is taught to customers as part of a deployment programme.
Green Hat presented customer success stories at the Butler Group SOA Strategy Briefing in London last week and will share new insights on the power of visibility in accelerating change at the SOA Summit 2009 in Scottsdale, AZ on May 5-6, 2009.
"What customers have learned about testing is that technology has to manage the complexity and numerous iterations for the users," Cole said. "Then, users can manage change and quality with an efficient and sustainable process across the SOA lifecycle. That's why demand for Green Hat's solutions has multiplied in the last few months as we previewed GH Tester 5.0."
About Green Hat (http://www.greenhat.com)
Green Hat is the global testing technology leader for SOA lifecycle management. We serve dozens of companies in the Global 500, including half of the top ten as well as many more in the Global 2000. We make testing simple and streamlined for complex systems relying on Web Services, messaging/ESB, BPM, CEP and governance. We make constant transformation sustainable with reusable assets and simulations.
Green Hat partners with FioranoMQ, HP, IBM, Oracle, Progress, Software AG, TIBCO and their service providers with a testing technology framework and best practices. We tie quality and performance to business requirements. We create material differences in the time, cost and coverage of testing for integration and SOA projects, departments and COE's.
Automate now. Make business better.
###