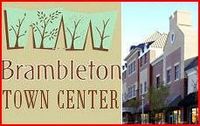 We love Brambleton, it's so family oriented
Detroit, MI (PRWEB) June 17, 2008
Two Fairfax retailers have selected Brambleton, a residential and retail development founded by Anthony Soave of Soave Enterprises - and Brambleton's emerging 500,000 square foot Town Center, as their top choice to open second locations. Brambleton is located in southeastern Loudon, Virginia.
Home design and accents retailer, The Nest Egg, opened in early March, expanding from Fairfax Corner. Bakery and specialty sweet shop, Edibles Incredible Desserts expanded from Reston in late February.
Owned by Ann and Sean O'Shields, The Nest Egg features transitional lines and traditional pieces, including old-world reproductions and French-country inspired designs in its 4,000-square-foot store at Brambleton.
"We're excited about our expansion from Fairfax and are thrilled to be a part of the Brambleton and Loudoun County community," commented Ann O'Shields. "Home decorating should be an enjoyable experience, whether you're in your first home or updating the look of your cherished pieces," O'Shields added. The Nest Egg, which plans a grand opening celebration the weekend of May 2, offers custom pieces, special orders, and decorating services utilizing its product lines.
Robyn Hanna, and her husband, Alan Furman, own Edibles Incredible Desserts with its unique cakes, baked goods and candies, inspired by the couple's longtime culinary and catering interests. Already involved with activities in Brambleton, Hanna and Furman have high praise for the community atmosphere that Brambleton offers its homeowners. "We love Brambleton, it's so family oriented," said Hanna.
Anchor tenant Consolidated Theatres opened its 16-theater complex last summer at the Town Center. Brambleton is now home to Harris Teeter, Art & Frame Depot, A&A Music, Froots, Caribou Coffee, B&T Dry Cleaners, Nick's Corner Grill, Cold Stone Creamery, Chevy Chase Bank, Go Bananas, Northern Virginia Orthodontics, My Thai Place, LaBelle Nail Spa, Hair Cuttery, Edible Arrangements, California Tortilla, Subway, Scotto's Rigatoni Grill, The UPS Store, Annalee's Formals, The Next Step, and Animal Medical Centers of Loudoun.
Also planning to open at the Town Center are Allstate Insurance, Asian Spice Cafe, Broadlands Family Practice, Classic Closets & Design, Color Me Mine, Loudoun Dental Institute, The Papery, Blue Ridge Grill, Cantina Cove, Johnny Rockets, Commonhealth Chiropractic of McLena and Lazurde Salon and Medi-Spa.
Almost 2,000 families now call Brambleton home while enjoying a wide variety of housing options available throughout this emerging new community, an award-winning, master-planned residential and retail development in the Dulles area of southeastern Loudoun.
Anthony Soave's vision for Brambleton was to build a community of tight knit neighbors and shopping close to home. Mr. Soave's philosophies on getting the most out of life helped recently boost Soave Enterprises to number 251 on Forbes' largest privately held companies' list.
Soave Enterprises is a diversified management and investment company founded by Detroit businessman Anthony L. Soave that provides strategic planning, financial and other management resources to its affiliated business ventures in the real estate, automotive retailing, beer distribution, scrap metal, industrial services and transportation industries, among others. For more information on Anthony Soave and Soave Enterprises, please visit Soave.com.
CONTACT:
Kim Adams
Director of Marketing
42395 Ryan Rd., Suite 301
Brambleton, VA 20148
Phone: 703-722-2860
###