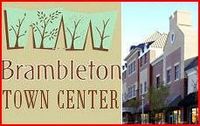 Importantly, we are on track to continuing this steady sales pace for 2008
Detroit, Michigan (PRWEB) June 20, 2008
The real estate industry suffered a difficult year in 2007, with more troubles predicated to come. Despite this overwhelmingly lackluster backdrop, a residential and retail development founded by Anthony Soave of Soave Enterprises, is achieving much success. Brambleton, located in southeastern Loudon, Virginia, experienced steady sales in 2007. "Importantly, we are on track to continuing this steady sales pace for 2008," reported Kim Adams, Brambleton's Director of Marketing.
In particular, the community's condominiums have maintained keen buyer interest. "This product line has opened the door to homeownership to many first time buyers," noted Adams. "The units appeal to young professionals just starting out, as well as to time-constrained single parents seeking to avoid the exterior upkeep of single family homes and townhouses."
Centex Homes, one of Brambleton's condominium builders, recently won a prestigious industry award for its three-bedroom Sedgewick model. "Buyers always appreciate this reinforcement of their home-buying decision," says Adams.
Along with strong home sales, the community's Town Center continues to thrive. Consolidated Cinemas, which has only been open since May 2007, ranked in the top grossing theatres for the entire Washington D.C. metropolitan area. Adams noted, "Our residents select Brambleton for its active, community-focused lifestyle and conveniently located amenities."
Anthony Soave's vision for Brambleton was to build a community of tight knit neighbors and shopping close to home. Mr. Soave's philosophies on getting the most out of life helped recently boost Soave Enterprises to number 251 on Forbes' largest privately held companies' list.
About Soave Enterprises:
Soave Enterprises is a diversified management and investment company founded by Detroit businessman Anthony L. Soave that provides strategic planning, financial and other management resources to its affiliated business ventures in the real estate, automotive retailing, beer distribution, scrap metal, industrial services and transportation industries, among others. For more information on Anthony Soave and Soave Enterprises, please visit Soave.com.
Contact: Kim Adams, Director of Marketing, 42395 Ryan Rd., Suite 301, Brambleton, VA 20148, Phone: 703-722-2860
###