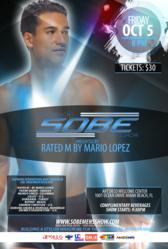 The South Beach Men's Show will heat up the runway this year with new men's international swimwear and underwear collections
North Miami Beach, FL (PRWEB) September 11, 2012
The South Beach Men's Show will heat up the runway this year with new men's swimwear and underwear collections from Mario Lopez' Rated M line, Colombian line Mundo Unico, Swedish line Frank Dandy, Brazilian line boyRio, Turkish line Doreanse, U.S. lines 2(x)ist and Andrew Christian as well as the Edmond Andre and Noirsoul Menswear collection from NBCs Fashion Star.
The SoBe Men's Show is scheduled for Friday, October 5 at the Historic Art Deco Welcome Center at 1001 Ocean Drive, Miami Beach. Complimentary cocktails and a reception sponsored by Mario Lopez' Rated M Collection will begin at 8pm for industry media, retailers and buyers. The show starts at 9:30 p.m. Media, retailers and buyers must register online at http://www.sobemensshow.com for complimentary access or to receive photos and video from the show. Consumer tickets are $30 and are available on the website.
About the Designers
Rated M by Mario Lopez
We're not heroes or visionaries. We're not here to change the world. We just want to make the best underwear and t-shirts ever seen in the history of mankind. Manful, masterful, magical and much more. RATED M, for manful men and their very special guests.
Mundo Unico
Mundo Unico is a top leading brand in men's underwear and has a varied selection of boxer briefs ranging from fun and exciting prints to elegant and subtle designs with exceptional fabrics and construction. The materials and fabrics along with the brand's designs are as diverse as the underwear, including t-thong, Caribbean bikini, brief, urban boxer, short boxer, mid boxer, long boxer and others. All Mundo Unico underwear allow for free and easy movement during any type of activity: sports, leisure, work, casual, travel and business. All Mundo Unico products are dyed and hand-stitched in Medellin Colombia, using only the finest fabrics and supplies as well as the latest technology.
Frank Dandy
The year was 2003 and there was no alternative to men´s single colored underwear on the market. Frank Dandy was founded to be that alternative and challenge the traditional view on men´s underwear. By creating underwear that was nowhere to be found on the market, Frank Dandy started a trend with patterned designs. Frank Dandy has been acknowledged as one of the most exciting new underwear brands by The New York Times and has won awards for its unexpected and innovative campaigns.
Doreanse
Doreanse is the newest line of underwear introduced to North America directly from Turkey. The brand launched directly from Istanbul has been popular and has been growing quickly in Europe and Australia since 1999. The selection consists of basic, casual, sexy and sporty designs, all at affordable prices. Doreanse is about premium look and comfort at affordable prices. The styles run the gamut of basic to fun/sexy for men of all ages, sizes and shapes. The brand has had little to no availability in the USA and Canada up until now and has quickly received rave reviews from customers and critics alike.
2(x)IST
Known for its cutting-edge fashion, contoured shapes, and superior comfort, 2(X)IST creates fashion-forward designs to fit men's lives. Founded in 1991, 2(X)IST has grown to become an iconic men's lifestyle brand with a style and fit for every occasion. 2(X)IST leads the evolution of fabrics, materials, and technology to create better fitting underwear, apparel, and accessories for style-minded, confident, modern men.
Edmond Andre & Noirsoul Menswear
NOIRSOUL pronounced (No-War..Sol) is a luxury men's apparel label. This label is where fashion and style collide, causing a massive explosion. This Brand was created by Fashion designer Edmond De Andre' especially for the modern man of Style, allowing you to find your place within the fashion universe of individuality. Culture, life experiences and music are its influence and give the brand its unique dynamic. Items ranging from ready-to wear, one of a kind originals, leather goods, accessories and even home decor are available. "Fashion is Music that you wear." Edmond DeAndre appeared on the latest season of NBCs Fashion Star.
Andrew Christian
Andrew Christian is known for his amazing line of technically advanced custom woven men's underwear. The underwear comes in street, sport, fashion and basics-themed lines and are available in a range of styles including low cut, super-low-cut and boxer briefs. Each style is intricately designed using specialized dye treatments, printed graphics and innovative materials such as bamboo fiber, sports mesh, and patented moisture wicking cotton blends. Andrew Christian is not just about underwear, he has been producing contemporary collections of urban inspired menswear, swimwear, edgy tees and accessories since its inception in 1997. However, it was Andrew's innovative underwear designs that established the company as a force in the fashion world.
boyRio
Born in 2007, boyRio® literally splashed onto the worldwide market from the heart of the swimwear design capital of the world, Rio de Janeiro. BoyRio ®provides the best in Brazilian swimwear and underwear reflecting the passionate energy of Brazil balanced with an unparalleled level of sophistication for the discerning and fashionable man. BoyRio®, renowned worldwide for its commitment to high quality, tasteful style, and an excellent fit, appeals to the high expectations of its customers. One of the hallmarks of a boyRio product is its attention to fit and comfort.
About South Beach Men's Show
The South Beach Men's Show is focused on building a stylish fashion wardrobe for the discerning modern man. The show presents an exciting and eclectic mix of the some of the hottest and talented national and international men's underwear and swimwear designers, showcasing their recent and upcoming collections. For more information, visit http://www.sobemensshow.com.
###