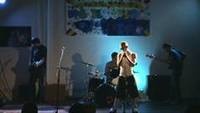 Every human has his or her original voice and music helps connect us to that place. The great part of recovery is seeing this transformation and I feel that I have first hand knowledge of this
Woodland Hills, CA (PRWEB) July 7, 2008
Sober College proudly announces new addition James Fuchs to the Creative Arts Program. James, who has worked in recovery for the past five years, has been known to heal souls with his musical gifts. "Every human has his or her original voice and music helps connect us to that place. The great part of recovery is seeing this transformation and I feel that I have first hand knowledge of this," begins James. "There is something very magical about Sober College and I am thrilled to be a part of a revolutionary movement within the recovery field."
James, who is six years sober himself, has made it his mission to use music as a vehicle to transcend beyond individual limits, and to help people connect with music, as a birth right and intuitive consequence to life. Honored to be a part of the Sober College family, James strives to help kids deal with their issues while helping to educate them on the importance of self- discipline, passion and creativity. Working with kids on recordings and talent shows or teaching the fundamentals of music, James who is a passionate teacher, cares about the process, not the perfection, and continues his quest towards a better world for our youth.
"The Creative Arts goal is for students to reach beyond normal limits found within traditional educational curriculum. Students participate daily in dance, theater, creative writing, film making, composing music and various additional artistic courses." states Loree Cohen, Clinical Director of Sober College. "Having James join our team solidifies our experiential outlook on the recovery model and enables our program to be more unique and effective."
James has been busy working on curriculum for both creative and educative groups, including: Fundamentals of Music, Recovery Spoken Word, Community Choir, Monthly Open Mic, Monthly Music Clinic, Recording Studio, Drum Circle, Theatre and Musical Element, and much more. "My main idea is to make Sober College a community of the education arts. That is a good reason to want to stay sober," smiles James.
Coming from a family of professional musicians, singers and performers, James has been a successful pianist/ guitarist for over 20 years. A proficient composer and producer, James writes original music from all genres and has composed three theatrical musicals. James has toured with numerous L.A. Bands, Seattle's Jerry Cantrell from the band Alice in Chains and most recently has been a guitarist for Macy Gray.
About Sober College:
Sober College, headquartered in Southern California, is a small private institution providing alcohol and drug treatment environments for young adults age 17 to 26. The Sober College curriculum builds core competencies in life skills, employment, academics, emotional well-being and fitness. For further information visit our website at http://www.sobercollege.com or call 800-465-0142.
# # #