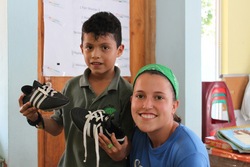 They wanted to reach out and donate to every child, but their resources and prior donations were limited.
Dallas, TX (PRWEB) September 14, 2010
Two DFW young ladies of Plano and Keller, TX launched the International Children's Enrichment (ICE) Program in August despite their young age (early 20s) and financial obstacles along the way. They were determined to make it a success.
Katie Hudson and Kathryn Aken recently traveled extensively in Central and South America, seeking opportunities to establish a program in rural communities; they finally decided on Escuela Nueva Hoja in Puerto Jimenez on the Osa Peninsula in Costa Rica as their partner school.
Hudson had applied for a Global Outreach Fellowship through Austin College but was turned down. To make the program a success in spite of obstacles, they pooled their remaining savings but were still short of funds. Hudson sold her motorcycle, which provided the basic amount for the round-trip venture and left just enough to fund several weeks of living expenses.
Now established and proven success, the girls plan to expand their enrichment program with more schools and volunteers. The program they developed uses the children's love of soccer to teach conversational English, provide a safe after-school environment and foster cultural understanding while endorsing healthy and fun experiences as alternatives to common social issues such as drugs, alcohol, sex and violence.
The program provides after-school services for children from 7 to 12 years of age in rural areas of Central America and provides services in enhanced English instruction and immersion for non-English speaking children, soccer training and activities for physical and sports education. The target group for the outreach is local families with students in private elementary schools – most likely dual working parents – speaking little or minimal English, in the lower 50 percent of income.
"I am amazed at how much we take for granted here in the United States, with relatively well-funded schools, adequate equipment and access to supplies," Aken said. "I wish everyone here could experience other less fortunate situations and spend time with these children. It was unfortunate to see some children playing barefoot without proper equipment with lopsided soccer balls."
One of the hardest things for the girls to experience was reality. They wanted to reach out and donate to every child, but their resources and prior donations were limited. They did what they could. "It was heartwarming to see the children so excited and engaged in soccer, learning new skills and willing to get involved," Hudson said. "I just wish we could have given them more in the way of new shoes, equipment or supplies."
"The real issue with basic education in Costa Rica is more of quality than effective attendance, as many of the elementary schools, particularly those in rural areas, are one-room schools in which, at different times of day, three of four groups of students in different grades share the facilities," according to a Global Guide to Management Education report. "The gap between these schools and the sophisticated private schools available in urban areas or those that can afford them, is very large in terms of effective learning, languages, technology, science and mathematics."
Additional Comments:
Anna-Margrethe Zimmerman, Escuela Nueva Hoja director
"These two students attended all levels of our student body, teaching them soccer techniques, sportsmanship and game rules. Along with all of the practical demonstrations, they showed our students how to have a lot of fun while playing soccer and sparked interest in the sport for those who had not shown interest in the past. We are greatly honored that they were able to spend time with us."
Matthew McCollough, teacher at Nueva Hoja School
"It was hard to control the enthusiasm of the kids when Katie and Kathryn got here, but the two of them were very successful in channeling that energy into the sport. Teaching without supplies is the purest invention of teacher creativity; however, attitude can suffice for only so long without proper teaching tools."
Biography information on the founders of the ICE Program:
Katie Hudson is a resident of Keller, Texas, attended Keller High School class of 2007. She is an experienced and talented soccer player. Her background has included premier clubs such as Sting Soccer and DFW Tornados (ranked #2 in Texas), CRSA Soccer in Iowa (traveling to Europe to represent the state of Iowa in the Dana Cup - Denmark), Varsity High School Soccer, as well as NCAA soccer for Austin College. Her college team traveled to England and Wales accumulating a winning record. Ms. Hudson is a certified Level E Coach. She has coached disabled children – and has studied abroad in Brazil, Argentina, and Uruguay. Katie is pursuing a Baccalaureate degree in Political Science from Austin College class of 2011.
Kathryn Aken is a resident of Plano, Texas and graduated from the Episcopal School of Dallas 2005. She has a wide range of experience in soccer as a player and coach and has been an Instructor in bilingual immersion programs. Ms Aken has proven success in soccer as Referee - Linesman, Club Soccer, coaching for Skyhawks (2007) & Clinics. Her background also includes leadership roles as Varsity Captain for her High School team and played NCAA soccer for Austin College. She has studied abroad in Argentina and Guatemala, and is bilingual in Spanish/English. She has experience working with children teaching Spanish in Jackson, WY. Kathryn holds a Baccalaureate in Spanish and Psychology, graduating Cum Laude from Austin College in 2009.
The ICE Program, founded in 2009, is a non-profit after school program intended to teach children soccer and English. Through soccer instruction in the English language, an immersion-type scenario will provide the real-life opportunity for children to use classroom-taught English while providing additional conversational skills. The intention is to endorse healthy and fun experiences as alternatives to common social issues, such as drugs, alcohol, and violence.
###