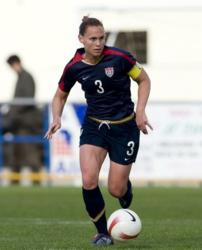 I became involved with the STOP Sports Injuries campaign because their mission to educate the public on youth sports overuse and trauma injuries is critical to keeping kids healthy and on the playing field
Rosemont, IL (PRWEB) May 02, 2012
Participating in multiple sports didn't keep women's soccer star, Christie Rampone from becoming one of the best in the world, instead it enhanced her performance and now she will be selected for the fourth time to the Women's Olympic Soccer Team.
"I will be honored to participate this summer on the Women's Olympic Soccer Team. My success on the soccer field has been due in part to participating in many different sports throughout my athletic career. I became involved with the STOP Sports Injuries campaign because their mission to educate the public on youth sports overuse and trauma injuries is critical to keeping kids healthy and on the playing field," said STOP Sports Injuries, Council of Champions Member, Rampone. "Basketball, track and soccer were all part of my youth and field hockey became my favorite sport in high school. I continued to play soccer, basketball and picked up lacrosse in college. I never was over training in one sport because I needed to be physically and mentally at my best while making a successful transition to the next activity."
Rampone has served as team captain for the U.S. Women's National Team, is the most capped player on the U.S. team and the only active player from the 1999 FIFA Women's World Cup championship team. Other awards that Rampone has received include 2009 Sportswoman of the Year and 2010 Most Respected Mom in Sports.
"I feel my experience playing multiple sports has allowed me to use many different skills and muscle groups, all requiring a unique mind set. Once I got to college, I became more of a defensive specialist in basketball. Even though I scored a lot of goals in college soccer, it was my defense in basketball that allowed me to thrive as a defender with the US Women's National Soccer Team. Always challenging yourself with a variety of training methods keeps your body and mind, fresh and motivated," said Rampone.
The STOP Sports Injuries campaign congratulates Rampone on her amazing accomplishments both on and off the field.
###
STOP Sports Injuries
The STOP Sports Injuries campaign was initiated by the American Orthopaedic Society for Sports Medicine (AOSSM) and includes a comprehensive public outreach program focused on the importance of youth sports safety—specifically relating to overuse and trauma injuries. The initiative not only raises awareness and provides education on injury reduction, but also highlights how playing safe and smart can enhance and extend a child's athletic career, improve teamwork, reduce obesity rates and create a lifelong love of exercise and healthy activity. The campaign's message underscores the problems of youth overuse and trauma injuries and emphasizes the expertise of our coalition of experts, including the American Academy of Orthopaedic Surgeons, American Academy of Pediatrics, National Athletic Trainers' Association, National Strength and Conditioning Association, American Medical Society for Sports Medicine, Sports Physical Therapy Section, Pediatric Orthopaedic Society of North America and SAFE Kids USA. For more details, visit http://www.STOPSportsInjuries.org