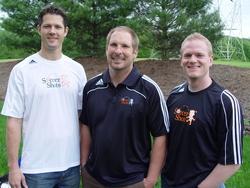 Soccer based business opportunity, Soccer Shots, is seeking quality owners to grow this successful franchise system.
Middletown, PA (PRWEB) March 10, 2011
The highly successful and nationally recognized education-based "soccer for kids" franchise system Soccer Shots - http://www.soccershots.org - is presently seeking additional franchisees nationwide. Founded in 2005 by three soccer teammates, the youth soccer program for children ages three to eight years old has become a successful and affordable business opportunity. The "soccer for kids business model created by Jason Webb, Jeremy Soranzo and Justin Bredeman has evolved and expanded into more than 80 territories and will educate an estimated 57,000 children in 2011. The franchise system focuses on children's developmental needs, health and wellness, using soccer as a fitness program for kids as they learn new psychomotor skills, teamwork, and cooperation all through the game of soccer.
Soccer Shots' partners Webb, Sorzano and Bredeman met as soccer teammates at Messiah College in 1994 and then played the sport professionally. The franchise system was born from their passion for the game, love for coaching and their desire for a sustainable soccer-based business that they could operate during normal business hours. After the business model was tested and proven, they began offering franchise opportunities in 2005. Soccer Shots presently is seeking to expand into new territories and regions in 2011.
In 2010, Soccer Shots was named a top franchise opportunity and a leading low-cost franchise by Entrepreneur Magazine. Franchise support and business development are the company's key focus. Soccer Shots' partnerships include Adidas as well as the National Soccer Coaches Association. They also are members of the International Franchise Association's VetFran program.
The Soccer Shots curriculum focuses on the developmental needs of young children and is presented in way that incorporates teamwork, encouragement, vocabulary, and character development through fun and creative soccer-related activities.
Visit the Soccer Shots Franchising Opportunities website for more information on becoming a Soccer Shots franchise owner.
About Soccer Shots
The Soccer Shots Franchise system has proven to be a strong business model in more than 30 states, and is expecting to bring on more than 30 new territories in 2011. In each 35-40 minute class, experienced, enthusiastic instructors focus on having fun while guiding children through imaginative games that teach basic soccer skills. The curriculum extends beyond physical activity to incorporate values like teamwork, encouragement and cooperation. The Soccer Shots program not only promotes physical activity in a fun, effective way, it also emphasizes positive habits and behaviors that transcend the sport of soccer.
###