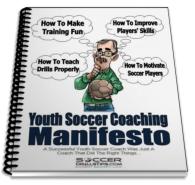 most youth soccer coaches will fail, even if they buy lots of products, study them religiously and work extremely hard
Ermesinde, Porto (PRWEB) July 07, 2009
An expert on coaching youth soccer drills, claims that "most youth soccer coaches will fail, even if they buy lots of products, study them religiously and work extremely hard," says Andre Botelho, author of the Youth Soccer Coaching Manifesto and founder of SoccerDrillsTips.com.
He also states that "70% of American kids quit playing soccer by the age of 13, because in their words: it wasn't fun anymore," claims Andre Botelho, creator of the Ultimate Soccer Drills System online course.
But, he doesn't stop there: "Did you know that the #1 reason why kids participate in soccer is to 'have fun'?", asks Andre, that played soccer for 15 years at the Portuguese Soccer Federation, and now influences well over 15,000 youth coaches a year with his coaching philosophies and strategies.
In fact, "the lack of knowledge to make and keep practice sessions fun and enjoyable for the kids is really the primary cause for failure as a youth soccer coach," says Andre Botelho, author of the book Expert Youth Soccer Coaching Guide.
In his groundbreaking report The Youth Soccer Coaching Manifesto, downloaded by more than 4,000 coaches in the first 24 hours alone, he covers topics like:

How to make training more fun and interesting for the kids;
How to avoid the most common mistakes youth soccer coaches make;
How to improve the skills of the players in record time;
The roles and responsibilities of a youth soccer coach;
How to motivate soccer players and get 100% out of them.
Andre Botelho's new report, The Youth Soccer Coaching Manifesto, can be downloaded for free at his website.
Andre and his report have received critical acclaim from the media, soccer publications and other coaches from around the world. He's been interviewed by several radio, TV shows, newspapers and magazines.
By the end of interviews, reporters are convinced that Andre has the answers. He's a superb interview who will fills readers with information that will be of value to them today and for the rest of their lives.
To schedule an interview with Andre, or for additional information on the news that is the subject of this release (like a copy, bio or Q&A), use the contact information provided.
Book Early! During last summer, Andre had to deny some interviews, because there was no more time.
About Expert Secret and Andre Botelho
Andre Botelho is a recognized authority on youth soccer coaching and has already helped thousands of youth coaches from more than 25 countries to put their 'coaching act' together. His free Internet soccer coaching reports and ebooks have been downloaded over 100,000 times.
Expert Secret provides a proven system that allows youth soccer coaches and volunteer parents worldwide to dramatically improve their players' skills and make training more fun in record time. Visit the company site http://www.soccerdrillstips.com for more information or leave your questions and/or comments on Andre Botelho's blog at http://www.soccerdrillstips.com/blog/.
###