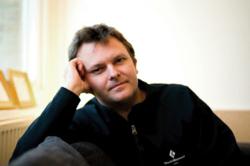 My immediate objective is to recruit and assemble a world-class local technical development team to be based with me in Jakarta, and together
build the best e-commerce platform in the region, if not the world
(PRWEB) May 09, 2012
Multiply.com is officially announcing today the re-location of its corporate headquarters to Jakarta from Boca Raton, Florida and its new CEO Stefan Magdalinski. With its core markets in the Philippines and Indonesia where Multiply.com is a leader in social commerce, the company is also bringing all technical and product developments from the US to Indonesia, and is currently hiring engineers to lead the effort from the new HQ in Jakarta.
As the newly-appointed CEO of Multiply.com, the pioneering social networking site and e-commerce market leader in Indonesia and the Philippines, Magdalinski brings business and technical experience to the role as an entrepreneur, chief executive, and former chief technical officer. Magdalinski and his team will drive Multiply.com's growth in the region by delivering great online shopping experiences for local buyers and sellers.
"I'm very excited to be working with the existing Multiply teams in Indonesia and the Philippines and become part of our new operations here. Having worked in Nigeria and Kenya most recently, it's wonderful to be operating in such developed markets as Indonesia and the Philippines," Magdalinski said. "My immediate objective is to recruit and assemble a world-class local technical development team to be based with me in Jakarta, and together build the best e-commerce platform in the region, if not the world."
Originally from the UK, and with 15 years e-commerce experience, Stefan previously managed e-commerce across Sub-Saharan Africa for MIH (a subsidiary of Naspers Group). Earlier, he was also the co-founder and Chief Technology Officer for MOO.com, a global business retailing innovative digital print products online.
Multiply.com is one of the world's largest online shopping malls with over a million shoppers from the Philippines, Indonesia, Malaysia, Singapore, Thailand and Vietnam.
The Multiply Market Place™ has recently dedicated a Philippine team that ensures a friendlier and more convenient online shopping experience for both sellers and buyers. With over 5.5 million users and growing, and 120,000 sellers across 16 different product categories, Multiply is now considered as the Philippines largest social online shopping destination, providing an easier, safer and more exciting experience in building a business and shopping online.
Jack Madrid, the Country Manager for the Philippines says, "We are excited for Stefan Magdalinski to lead Multiply on its next stage of growth in our most important markets. His expertise in e-commerce in emerging markets and his entrepreneurial spirit will definitely be a boost in leading the team. With the Multiply back office and the HQ both in the Southeast Asian region, we will continue our momentum establishing Multiply.Com as the leader in e-commerce."
"More and more companies are realizing the potential of the region in terms of consumption and its very capable workforce. Multiply's headquarters move is indeed a strong message of commitment to the growth of the business in the Philippines, our biggest and most important community and market," he ends.