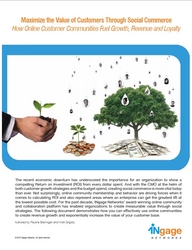 Naples, FL (PRWEB) October 6, 2010
INgage Networks, an award-winning provider of enterprise social software, offers companies a helpful guide to making online customer communities profitable: "Maximize the Value of Customers Through Social Commerce: How Online Customer Communities Fuel Growth, Revenue and Loyalty."
News Facts

To help companies learn how they can effectively use online communities to create revenue growth and exponentially increase the value of their customer base, INgage Networks has published an eight-page booklet, which shares several case studies, supported by Return On Investment (ROI) calculations.
The booklet highlights the rising interest of social commerce, as featured in industry analyst reports and the Altimeter Group conference, The Rise of Social Commerce being held this week in Palo Alto, California.
Social commerce leverages social media – that supports social interaction and user contributions among customers online – to facilitate peer-influenced purchasing decisions and new revenue.
When it comes to ROI, online communities prove to be a low cost way to drive revenue growth, as well as traffic, conversion, average order value, loyalty, and competitive differentiation.
INgage Networks' award-winning enterprise social software platform has enabled companies to create measurable value through social commerce.
Supporting Resources
About INgage Networks
Established in 1999, INgage Networks provides enterprise social software solutions specifically designed for business and government. The company's award-winning ELAvate platform enables organizations to connect with customers through social media to drive commerce, build stronger relationships, and improve overall business performance. INgage Networks provides clients with SaaS solutions that include a mobile marketing application, professional services, and advanced analytics to drive actionable results. For more information, visit http://www.ingagenetworks.com.
###