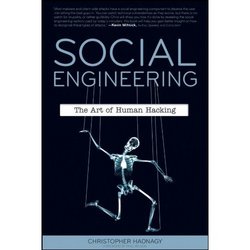 You can patch technical vulnerabilities as they evolve, but there is no patch for stupidity, or rather gullibility. Chris will show you how it's done..." Kevin Mitnick
Brooklyn, PA (PRWEB) December 20, 2010
Social engineering is the act of manipulating a person to accomplish goals that may or may not be in their best interest. This may include obtaining information, gaining access, or getting the target to take certain action. Many times social engineering is used in fraud, identity theft and malicious hacking.
Identifying, preparing and protecting for and against these threats has been a topic for heated debate in the security world. In the brand new book, Social Engineering: The Art of Human Hacking, author Christopher Hadnagy details the world's first framework for social engineering. He meticulously picks apart the framework step-by-step and analyzing and then explaining each piece of the puzzle. True stories and case studies from the masters of the art, like Mitnick, and Hadnagy himself, illustrate each of the principles behind using social engineering to exploit, manipulate and deceive individuals and businesses alike. Topics include:

Information Gathering.
Elicitation.
Pretexting: How to Become Anyone.
Microexpressions
Non-verbal body behavior
Influence: The Power of Persuasion.
The Tools of the Social Engineer.
Knowledge is power. That old hacker adage is the basis for the social engineering prevention education provided in this book. One reader says, "Finally, a book that is not just a collection of stories but real world information that can help us prepare to audit then protect from these attacks."
"Most malware and client-side attacks have a social engineering component to deceive the user into letting the bad guys in. You can patch technical vulnerabilities as they evolve, but there is no patch for stupidity, or rather gullibility. Chris will show you how it's done by revealing the social engineering vectors used by today's intruders. His book will help you gain better insight on how to recognize these types of attacks," said Kevin Mitnick, about the book.
About the author
Chris Hadnagy, aka loganWHD, has been involved with computers and technology for over 14 years. Presently his focus is on the "human" aspect of technology such as social engineering and physical security. Chris has spent time in providing training in many topics and also has had many articles published in local, national and international magazines and journals.
He presently is "Operations" for Offensive Security and the lead developer of Social-Engineer.Org. as well as a trainer for Offensive Security Pentesting With BackTrack Course. He has partnered with the team at http://www.backtrack-linux.org and is involved in various research projects such as Hardware Hacking, BackTrack, Exploit Development, Online Information Security Training, and various other aspects of network security. Chris is also the lead social engineer in the Offsec pen testing team. Chris can be found online at http://www.social-engineer.org, twitter as @humanhacker.
# # #