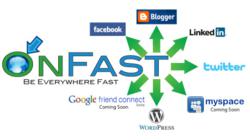 OnFast is very easy to setup and use. Within five minutes we were sending out coupons on Facebook, Twitter, LinkedIn, and our blog
Naples, FL (PRWEB) June 29, 2011
OnFast launched its service to the Golf industry today. The social marketing solution helps golf professionals market their golf courses and services across social networks such as Facebook, Twitter, and LinkedIn. OnFast supplies professionally written documents containing search engine optimized keywords for the golf industry, which makes it easier to create blog posts, and update social networks.
"Most golf pros don't have the time, resources or marketing experience to effectively market themselves online. Their efforts usually consist of putting up a golf course webpage and expecting potential golfers to somehow find it. It usually doesn't work and they miss their true growth potential." remarked OnFast President Christopher Shepherd.
In addition, OnFast provides golf professionals the ability to offer discount and promotional coupons to their customers, without any per coupon charges. These coupons are posted to social networks and blogs, or can be exported for email campaigns. Current daily deals can also be listed directly on the golf course's website using OnFast's proprietary coupon feed. OnFast's easy to use Campaign Planning Calendar allows golf courses to quickly plan and schedule their future marketing efforts. Tracking the results of marketing campaigns is straight-forward, helping golf course owners achieve their visibility goals at a glance. These features allow golf professionals to efficiently leverage social networks such as Facebook, Twitter, and LinkedIn, in just a few minutes a week.
"OnFast is very easy to setup and use. Within five minutes we were sending out coupons on Facebook,Twitter, LinkedIn, and our blog" said OnFast customer Phil Lewallen, of Swan Lake Resort & United States Golf Academy, located in beautiful Northern Indiana.
OnFast is accessible world wide via a web browser or mobile device at http://www.onfast.com/golf.html. OnFast offers its innovative services as an affordable flat-fee monthly subscription, with no contracts, no per-coupon charges, and a no-risk 30-day free trial.
Founded in 2010 by serial Internet and travel technology entrepreneur Aaron Shepherd, OnFast is a cloud-based software as a service (SAAS) provider for the online coupon and social network marketing space. OnFast's management team brings more than 30 years of experience in the software and Internet industries to provide customers with innovative and effective technologies. OnFast is headquartered in Naples, on Southwest Florida's Gulf Coast. OnFast customers can learn more and sign up for the service at http://www.onfast.com/golf.html.
For more information contact Christopher Shepherd christopher(dot)shepherd(at)onfast(dot)com at 866-MYONFAST (866.696.6327). Follow us on Twitter: @OnFast. Connect with us on Facebook: http://www.facebook.com/onfast. Check out our blogs at http://blog.onfast.com and http://tech.onfast.com.
Swan Lake Golf Resort is a Plymouth, Indiana based company founded in 1969. The United States Golf Academy has been part of the facility since 1969. The resort features 36-holes of golf, 92 hotel rooms, on-site cabins, fairway villas, 20,000 square feet of meeting space, a 10,640 square-foot ballroom, restaurant, bar, indoor/outdoor pool and spa/fitness center. Details are available at http://www.swanlakeresort.com. For information about Swan Lake Golf Resort or to receive photos or graphics, contact Andrew Mears at 800.582.7539 or amears(at)swanlakeresort(dot)com
OnFast is a registered trademark, and other OnFast product names, service names, slogans or logos referenced in this document are registered trademarks of OnFast, LLC. All other company, product or service names referenced in this website are used for identification purposes only and may be trademarks of their respective owners.
# # #