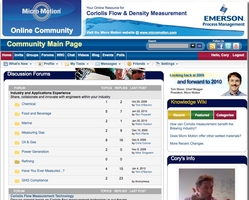 When it comes to social marketing, we knew there were more effective and strategic options than simply putting an ad on Facebook
Los Angeles, CA (PRWEB) February 2, 2010
COOP Media Ventures today announced the launch of an online community for Micro Motion, a division of Emerson Process Management.
"When it comes to social marketing, we knew there were more effective and strategic options than simply putting an ad on Facebook," explains Mike Tongwarin, Online Marketing Manager for Emerson's Micro Motion. "Our product addresses a range of measurement challenges in production and process plants. We make coriolis flow and density meters that accurately measure how much material is flowing through production lines, how much is feeding a process or how much is being transferred. I have not seen many groups on Facebook for that type of discussion, but I do know our customers want and need a forum with Facebook-like functionality for open collaboration and closed door discussions."
Enter the groundbreaking relationship with COOP (Community Oriented Online Productions). Working with COOP's team of cross-discipline technologists, Micro Motion was able to map out a plan for their vertical B2B community, complete with "Web 2.03" functionality.
Mike adds, "As a B2B supplier, advancing our social media efforts remains a constant challenge, especially compared to the efforts of more widely popular B2C companies. But we refused to let the typical B2B barriers hinder our drive for a thriving social engineering community. COOP presented us with the ability to reach our B2B customers, but through a consumer environment that everybody was already familiar with. The 'Wow!' factor from our customers when we first presented them such a social community was thrilling. We not only want to be in better touch with our customers, but also allow them to communicate with each other and utilize our entire customer base knowledge as a resource for any and all application challenges."
"A lot of technologies are first experienced as novelties, and with some careful shaping and strategy, they can become powerful business tools," states Lane Soelberg, President and CEO of The COOP. "Thomas Edison never envisioned a recording industry and an iTunes platform for distribution…he just thought it was cool that he could record his voice on a wax cylinder. At the COOP, our discipline is aimed at turning novel, readily available technologies into strategic business tools for our clients."
The use of open source code is a key piece to the puzzle, helping to keep costs down and quality up. A proven open source tool has the advantages of not starting from scratch, and collective feedback and improvements from developers embracing the technology. However, open source code alone cannot solve every problem.
"Most of our clients are very uncomfortable with the idea of plugging in some open source code that was downloaded off the Internet," continues Lane Soelberg. "Customization is almost always necessary, to meet security protocols, marketing plans, and business rules and analytics. We start with open source code as a good lump of clay, and shape it to fit the needs of our clients. The result is the perfect hybrid…a tested piece of code, supported by the developer community, and customized to meet the need of the client – all done much faster and more efficient than starting from scratch."
The vertical B2B community for Emerson's Micro Motion is now up and live at http://community.micromotion.com . At the time of this writing, the community has been live for two weeks and has signed up 600 members including customers, prospects, and employees. Moving forward, Micro Motion will enhance the Online Community with videos, webinars, chats, online workspaces, etc. "COOP provided us with all the social media tools we could have asked for. Now our challenge is to utilize those tools to realize their full potential. Our work is just beginning, but it's certainly an exciting time for us."
###