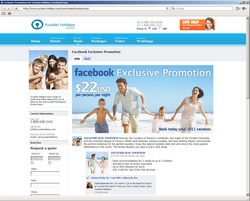 Yucatan Holidays is on the cutting-edge of social media. The travel group provides unique vacations that showcase cultural and environmental experiences for travelers.
Cancun, Mexico (PRWEB) November 4, 2010
Yucatan Holidays, the award-winning travel agency in Mexico, is using innovating social media tools in an effort to increase travel to Mexico, Cancun and the Yucatan Peninsula.
With tourism being Mexico's third largest source of revenue, government and independent travel agencies have increased their efforts to promote travel to the country in wake of growing insecurities.
Known for its innovative creation of unique travel packages and use of social media, Yucatan Holidays has recently launched an exclusive Facebook travel deal for Cancun hotel accommodations for $22 USD per person, per night for two adults and up to two children.
The exclusive promotion gives travelers the opportunity to secure the offer at the $22 USD rate while giving until 2011 to travel. With more than 5,300 friends on Facebook, the Cancun vacation package is only available to people who "Like" the Yucatan Holidays Facebook Fan Page.
Yucatan Holidays designed a quirky-looking package on their website that resembles the Facebook layout. The design of the deal page includes Facebook comments and likes from Captain Jack Sparrow, Marty McFly, Homer Simpson, and Chuck Norris.
The travel agency is on the cutting-edge of using innovative social media campaigns and techniques. Such as their weekly YH Quick Getaway which invites their fans to win a vacation to Cancun every week.
Yucatan Holidays is also a strong proponent of sustainable tourism, providing unique vacation packages that feature remarkable cultural and environmental education experiences for travelers. These authentic cultural vacations in the Yucatan Peninsula support local communities, indigenous populations, and the natural environment. The Mexican-owned agency received the International Star Award for Quality (ISAQ) from Business Initiatives Directions (BID) for its commitment to quality and excellence.
The Cancun-based travel group provides vacationers with a range of hotels, excursions and travel benefits. Mexico is the second most popular international luxury destination and fourth in the world for eco-tourism. Cancun and the Riviera Maya have become a preferred travel destination in Mexico for their attractive vacation tours, including Mexico's best beaches facing the Caribbean Sea.
About Yucatán Holidays
Yucatán Holidays is a visionary company committed to providing inspiring and sustainable travel experiences throughout the Yucatán Peninsula, founded by travel expert Erika Garcia in conjunction with the Sunset Group. Yucatán Holidays works with local charities, natural environment and the regions local community to provide unique holiday options and experiences to travelers. It offers opportunities to travel throughout the Yucatán Peninsula in an authentic manner, while ensuring that the local area benefits positively from ecotourism. Yucatán Holidays is also proud to support many charities and sustainable development agencies that assist the company in benefiting the areas in which it operates even further.
# # #