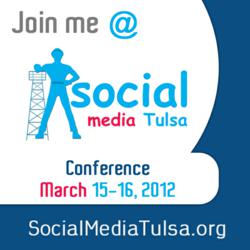 "Educators, students, seasoned citizens, and those working for the organizations that serve our community should have as much access to this pool of knowledge as small business owners and large corporations." Cheryl Lawson
Tulsa, ok (PRWEB) February 16, 2012
March 15-16, 2012, Social Media Tulsa will host the second annual #SMTULSA Conference at the Hyatt Regency in downtown Tulsa.
Social Media Tulsa Conference seeks to educate, engage, and enliven the community. In addition to keynote speakers, breakout sessions will allow attendees to select the topics that are of interest to them.
"It is important that we grow the social media community in Tulsa and surrounding areas to be one of shared experiences and inclusion," Said Cheryl Lawson of Party Aficionado, LLC and founder of Social Media Tulsa. "Educators, students, seasoned citizens, and those working for the organizations that serve our community should have as much access to this pool of knowledge as small business owners and large corporations."
The official charity partner of the 2012 conference is The Humane Society of Tulsa. The Humane Society of Tulsa is a private, non-profit organization committed to the promotion of responsible pet ownership and pet population control. We strive to accomplish these goals by working hand in hand with the community to provide education, counseling, and assistance on proper pet care and the importance of spaying and neutering.
Conference speakers include: Liz Strauss, Becky McCray, Gina Schreck, Mandy Vavrinak, Doug Stewart, Carlos Moreno, Patrick Allmond, Mike Petras, Marty Coleman, Filiberto Gonzalez, Angel Adams, Jenny Vergara, Judi Grove, Julie Chin, Laura Moss, and Cheryl Lawson.
"Join #SMTulsa conference 2012 http://ow.ly/94ujB" is the official tweet.
To register for Social Media Tulsa Conference,visit http://socialmediatulsaconference2012.eventbrite.com/
About Social Media Tulsa
Social Media Tulsa is the area's most active social media group. #SMTulsa has rapidly become the place for thought leaders and newbies alike to share social media's best practices while at the same time going beyond the technology to create face to face connections. It all began with Social Media Day Tulsa 2010 at Fat Guys Burger Bar in the historic Greenwood district. Social Media Tulsa holds monthly Meetups, Tweetups, and participates in several community projects. To learn more and to register for the conference visit SocialMediaTulsa.org
###