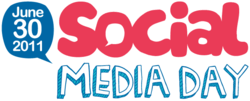 Tulsa, OK (PRWEB) May 16, 2011
Mashable has announced that the second annual Social Media Day will be held Thursday, June 30, 2011. The global event is a celebration of the technological advancements that enable everyone to connect with real-time information, communicate from miles apart,and have their voices be heard.
Social Media Tulsa began on Social Media Day 2010 in the historic Greenwood district, and the planning for Social Media Day 2011 has begun.
"There's no better way to celebrate the revolution of media becoming a social dialogue than by socializing with your online community offline," writes Meghan Peters, Mashable Community Manager.
"Social Media Tulsa is full of talented and influential people from all backgrounds, using the tools of the social web to enhance their lives," explained Cheryl Lawson of Party Aficionado, LLC and Founder of Social Media Tulsa. "With over 200 members, I can't wait to connect with everyone on Social Media Day."
From monthly meetups to a full-fledged social media conference, Social Media Tulsa has been an active and productive group. Several businesses have recognized the power of social media buzz and have gladly invited the group to their restuarants, hotels, and venues for events.
There are several ways you can participate in Social Media Day Tulsa.
Tulsa area web enthusiasts are invited to connect by joining Social Media Tulsa Meetup group.
Host the Meetup at your restaurant or venue.
Provide give-a-ways for goodie bags.
Send the official Tweet: "Let's celebrate Social Media Day Tulsa #smday #smtulsa http://bit.ly/SmdayTulsa"
For updates and to find out what organizers are cooking up this year, follow the @SocMediaTulsa Twitter account.
About Social Media Tulsa
Social Media Tulsa: It all began with Social Media Day Tulsa at Fat Guys Burger Bar in the historic Greenwood district. Social Media Tulsa is a community that invites its members to gather and talk about the impact of Social Media on business, news, entertainment, sports, non profit, and any other topics that need to be discussed. Learn more visit socialmediatulsa.org
About Party Aficionado
Party Aficionado is the leading social marketing firm. We help you share your story using event marketing, social media marketing, internet marketing, and PR. Learn more visit partyaficionado.com
###