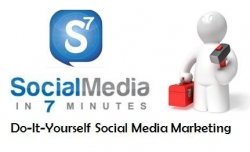 The social visual storytelling language is perhaps the best way people can learn
Austin, TX (PRWEB) August 16, 2012
What is Social Visual Storytelling and why is it vital to small businesses seeking to be found online?
With the term visual storytelling being used a whole lot in marketing, it important to know what it means and how it benefits small businesses. This is why Social Media In 7 Minutes has created a report detailing what it is and how to use social visual storytelling to create more compelling sales copy. To read this report, please click here.
"The social visual storytelling language is perhaps the best way people can learn," says Social Media In 7 Minutes Co Creator Nick Bridges. "This occurs through images and words being used together in order to get a point across. Because images are often easier for us to understand and words simply fill out a spatial context, this type of visualization is gaining in popularity."
In a recent study, it was revealed that 60% of business professionals prefer to watch an informational video rather than read text.
"If you want to make an emotional connection with your followers, storytelling is also key," continues Mr. Bridges. "It's important to use emotional storytelling because emotions can influence the decisions people make."
To view this report, please visit http://www.socialmediain7minutes.com/what-is-social-visual-storytelling/
'Social Media In 7 Minutes', a social media marketing product created by Black Box Social Media in Austin, Texas, is a do it yourself, how to, social media marketing company with over 60 step by step video trainings on how to use Facebook, Twitter, LinkedIn and more. In addition, 'Social Media In 7 Minutes' has also created their own social media dashboard, which allows users to manage their LinkedIn, Twitter, and Facebook accounts, messages, groups, and more from just one location... in 7 minutes a day.