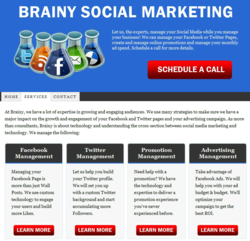 There are too many consultants that do too much talking...we are technologists who understand the viral loops that a business must capture to be truly social.
Los Angeles, CA (PRWEB) November 30, 2011
Brainy Social Marketing, a social media management company, announced today its large brand and small business social media consulting services are now reaching over 10 million Facebook fans. Through the management of Facebook and Twitter pages, monthly promotions that include sweepstakes and contests, and highly targeted Facebook ads, Brainy is able to leverage multiple online marketing efforts to achieve the biggest bang for its clients.
"We are more than social media consultants, we are also technologists who understand the viral loops that a business must capture and close to market as effectively as possible. There are too many consultants that do too much talking. At Brainy, we believe there is a convergence of marketing and technology and, to be the most effective, you need to not only understand both, but also to be a part of both," said Michael Glazer, Founder and CEO of Brainy Social Marketing.
Since the Company's private launch six-months ago:

The Company has retained 100% of all clients
Facebook page fan growth has more than doubled for every client
Agencies are outsourcing their Facebook page management to Brainy
Maintains a very cost-effective approach for all size businesses
Measurable sales have been recorded by clients, demonstrating a positive ROI
Brainy believes a business needs to take advantage of the viral nature of social networks to raise awareness of a brand. To make an impact on a consumer, online marketing needs to be social. This is where Brainy Social Marketing is most expert.
Brainy believes managing a Facebook page is more than just wall posts and content moderation. The Company analyzes data across its network to develop new strategies and to understand new changes and features Facebook or Twitter roll-out on a weekly basis. Brainy determines what type of content is proving most effective and then focuses on that strategy until data proves otherwise. Brainy's goal is to use its social marketing expertise and technology to grow and engage a client's online audience. By the end of 2012, Brainy expects to manage Facebook pages with a reach of over 50 million fans.
About Brainy Social Marketing
Brainy is the most unique social media management service available. By combining marketing and technology expertise, the Company truly understands and is able to leverage multiple technologies to create the most effective marketing efforts for its clients. The Company doesn't just talk social media, they build it, and use that knowledge to the benefit of their clients. That is why agencies and businesses use Brainy to manage their Facebook pages and social media marketing.
To learn more and to schedule a call, contact info(at)brainysocialmarketing(dot)com.
###