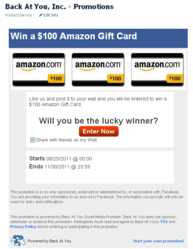 Businesses are adopting Back At You because our technology has proven to be highly effective in growing and engaging an online audience, at a cost-effective price
Los Angeles, CA (PRWEB) November 30, 2011
Back At You, a social media marketing platform where businesses create Facebook and Twitter promotions, announced today that within 3 months of its public launch, businesses have created 500 promotions using the Company's self-service suite of software tools.
"Businesses are adopting our technology because our technology has proven to be highly effective, we focus on client service and it's a fraction of the cost of other companies. As agencies and businesses find and use us, they will see we deliver the same if not better results and unmatched support, all, much more cost-effectively," said Michael Glazer, Founder and CEO of Back At You.
Data from these 500 promotions over the past 3 months suggests:

85% of participants in a Facebook Like promotion post to their Facebook wall;
Each wall post reaches approximately 200 friends;
With Facebook fans of 5,000 or less, Back At You tends to double the size of those pages within 3 months; and
With Facebook fans of approximately 100,000, Back At You tends to increase the number of fans by 33% within 3 months.
Back At You provides businesses and agencies a choice of creating their own promotion through the Company's self-service platform or working with Back At You to build and manage a promotion for them. Data is measured on every promotion through detailed analytics provided to every client.
Since launching to the public at TechCrunch Disrupt in September 2011, Back At You has been busy making sure each of its promotions performs as best as possible through its 6-step process of how to market a promotion once it is created.
About Back At You:
Back At You helps companies and agencies build marketing campaigns on Facebook and Twitter. The Company's self-service platform allows business owners and marketing teams to easily create, launch and analyze social media marketing campaigns and promotions. Back At You is also used by agencies to manage their social media pages and by franchisors to provide social media solutions to stores.
For more information, please contact info(at)backatyou(dot)com or 818.990.0565.
###