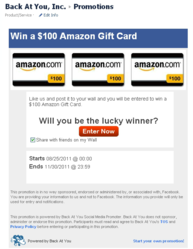 People are looking for deals and when their favorite brand on Facebook offers a promotion, the fans are all over it.
Los Angeles, CA (PRWEB) December 14, 2011
Back At You, a social media marketing platform where businesses create their own promotion to place on Facebook, reported today that promotion participation is up 30% during this holiday season network-wide. Businesses that have run a marketing promotion after Thanksgiving have experienced a 30% increase in their participation rate compared to a similar promotion before the holidays.
"The holidays are always the best time to start a promotion. People are looking for deals and when their favorite brand on Facebook offers a promotion, the fans are all over it. Also, brands greatly benefit with increased participation because that means more people are spreading their name. In fact, our data shows that for each new participant, on average, an additional 170 people potentially see it via their Facebook newsfeed. This is huge for a brand's reach and messaging and why businesses use Back At You," says Michael Glazer, CEO and Founder of Back At You.
As brands continue to build their online presence on Facebook, the ability to create cost-effective promotions that build and engage fans have become much more important. There is no better time to start online marketing campaigns then during the holidays. If you plan on initiating a last minute marketing promotion, here are some friendly tips:

Use a Facebook Page as your landing page. Facebook makes building, engaging and managing your fans easy, plus the viral components inherent in Facebook are second to none.
Make sure you have a good, catchy headline and thumbnail. Your promotion needs a good call to action and needs to sound appealing. Don't underestimate the one-liner. Also, a good thumbnail image is important as this is what will be posted in the newsfeed. Images get clicked the most.
Make sure people Like your page first, then enter the promotion. Also, don't forget that according to Facebook rules, all promotions need to be done in an application, like the one Back At You provides.
Review analytics and viral components of your promotion. If you are using a quality promotion application, you can view the data of your promotion including its reach, wall posts, participation, demographic info, referral sources and other key data. Don't be blind to the data, it is the key to constantly improve your promotion.
People are fans of brands on Facebook for mainly two reasons. The first is that they want to be kept up to speed on their favorite products and services. Second, they are looking for deals and promotions on those products or services. If you are a brand, why not give your fans what they are asking for? The holiday season is the most effective promotion time all year. If you want to build an online presence, we encourage all brands to take advantage of this time of year.
About Back At You
Back At You helps companies and agencies build marketing campaigns on Facebook and Twitter. The Company's self-service platform allows business owners and marketing teams to easily create, launch and analyze social media marketing campaigns and promotions. Back At You is also used by agencies to manage their social media pages and by franchisors to provide social media solutions to stores.
For more information, please contact info(at)backatyou(dot)com.
###