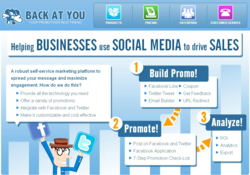 Managed Services is focused on helping small businesses succeed in their online marketing.
Los Angeles, CA (PRWEB) January 31, 2012
Back At You, a social media marketing company focused on creating and executing online marketing strategies for small businesses, announced today a service call Small Business Social Media Managed Services.
Managed Services is focused on helping small businesses succeed in their online marketing. This service combines key components of social media and Facebook into one complete solution. Back At You works with each client to develop a targeted audience for their business, including the type of people they want to target and location of their ideal customer. Once the audience is identified, Back At You develops a strategic plan and then executes and optimizes that plan on behalf of the client.
Back At You introduced its new Managed Services as a result of the lack of success most small businesses experience using social media. This lack-luckster experience is due to the fact that small business owners, in general, don't have the time, resources or expertise to create and execute a successful social media campaign. Understanding the best and most effective technologies and methodologies to market a business takes a lot of time and effort. Back At You has solved this need and has created a service where the small business owner can focus on his business while knowing they have their own social media manager working to build a targeted online audience.
"Virtually every small business we talk to wants a meaningful online presence, however they don't know what to do or have the time. When we offer our services, they feel so relieved. They know this is the future and don't want to miss out. We provide them the confidence that while they are building their business offline, we are building it for the future – online. It's very exciting to be a part of helping small businesses in an area they are screaming for help," said Michael Glazer, CEO and Founder of Back At You.
Since launching its service, Back At You has helped hundreds of small businesses grow their market online. On average, Managed Services increases a small business' Facebook Likes 5-10x over the course of its services with a 3-4x increase in Like conversions. The ability to combine multiple technologies and online marketing expertise, along with executing the marketing strategy, enables Back At You to achieve virtually 100% satisfaction rates from its small business marketing clients.
About Back At You
Back At You provides social media marketing services to all size businesses. The company provides both managed services and a self-service tool to assist businesses in their use of social media. As a true service company, Back At You specializes in helping businesses create, build and execute marketing campaigns that look to build engagement while also focusing on targeting the right customer. We are your own social media marketing department.
For more information, please contact info(at)backatyou(dot)com.
###