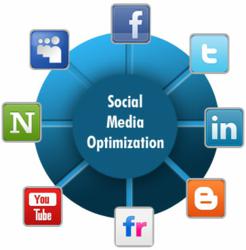 Complete Social Media Optimization Service - For Higher ROI and Better Online Visibility
Houston, Texas (PRWEB) May 21, 2013
SubmitEdge as one of the most astute SEO and link building service providers in the industry has always been offering highly futuristic services to the customers. The SEO industry leader has identified the need for a complete or comprehensive social media optimization solution, which customers can use to promote the products and services effectively in the social media platforms. In view of meeting the need or filling the gap, SubmitEdge has launched the most comprehensive range of SMO services. The Complete Social Media Optimization packages help customers get all types of social media marketing strategies in a single package.
The well thought out complete social media optimization packages from SubmitEdge are expected to receive great welcome and appreciation from the customers. SubmitEdge has launched four packages, SMO-1 to SMO-4 with prices ranging from just $400 to $900. All the packages whether a customer chooses the low-end package or high-end package will ensure the best value for money and excellent results.
The complete social media optimization package takes care of Facebook branding, Twitter Branding, Pinterest Branding and comprehensive social media promotion strategies, which covers everything from article promotions to Niche Blog reviews. The complete social media optimization packages from SubmitEdge have been developed by top experts in the SEO industry to guarantee the best results.
Like always, SubmitEdge guarantees customers complete satisfaction regardless of the package chosen by the customer. The company uses only search engine friendly strategies. As far as customer support is concerned, SubmitEdge extends unparalleled service. Customers can get in touch with the company through email, phone or through website live chat. SubmitEdge also assigns dedicated account manager to every customer to ensure timely completion of the work. Detailed reports on the complete social media optimization service or sent at the completion of the service.
Setting up of the complete SMO packages with SubmitEdge is very easy. Customers just need to select the package that fits one's budget and requirements. Upon completing the initial payment formalities, SubmitEdge will immediately assign professional team to execute the order.
SubmitEdge promises customer excellent benefits from the complete social media optimization packages including but not limited to excellent online visibility, better website traffic, good quality back links and better positions in Google search results pages. SubmitEdge does not stop with making impressive promises but actually meets the customer expectations every single time.
About SubmitEdge
SubmitEdge is a highly reputed SEO and link building company with worldwide popularity. SubmitEdge has been in the SEO industry since 2006 and the company has served almost twenty thousand customers offering wide range of SEO and link building solutions. To learn further about the complete social media optimization packages offered by SubmitEdge please visit Social Media Optimization