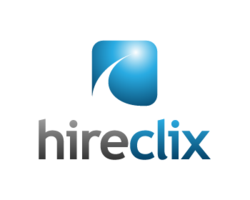 Online tools are extremely effective at targeting employees with special skills and clearances that defense contractors, IT service providers, and healthcare organizations are in dire need of.
Gloucester, Mass. (PRWEB) February 21, 2012
HireClix will provide strategic insights and practical steps on how and why recruiting teams can use social media channels for recruiting in their first social recruiting seminar in Fairfax, Va. on Thurs., Feb. 23 from 8 a.m. to 10:30 a.m. The free breakfast seminar, "Maximizing LinkedIn and Facebook for Recruiting", will be held at the Mason Inn Conference Center and Hotel, 4352 Mason Pond Dr. in Fairfax, Va. The event is free and open to recruiting teams in Northern Virginia and the District of Columbia. Registration is required at http://www.hireclix.com/events.
Indeed.com, the leading, worldwide job site, will join Hireclix that evening to co-host a free networking event for area recruiters from 6 – 9 p.m. at Wildfire at Tysons Galleria, 1714 International Dr., McLean, Va. Corporate recruiting teams, staffing firms and human resources professionals are invited to attend and share their recruitment marketing success stories. Hosted cocktails and appetizers will be served. Executives from HireClix and Indeed will provide counsel on how to maximize recruitment marketing budgets. Indeed will discuss its new Indeed Resume search solution that provides recruiters access to millions of qualified candidates.
"It's time for recruiters to move beyond job boards and diversity their recruitment campaigns using job aggregators, social media and targeted online advertising," said Neil Costa, CEO and founder of HireClix. "Online tools are also extremely effective at targeting employees with special skills and clearances that defense contractors, IT service providers, and healthcare organizations are in dire need of."
The HireClix breakfast seminar will focus on how companies can utilize Facebook and LinkedIn to build their employment brands, recruit passive and active candidates, and increase the quality of incoming candidates. Costa will also demonstrate specific "how to's" for building a Facebook recruiting fan page and targeting passive candidates with Facebook advertising. He will provide a tutorial on the advantages of LinkedIn's lesser known products and outline effective techniques for negotiating a LinkedIn contracts. The educational seminar will also include real-world examples and case studies demonstrating the effectiveness of Facebook and LinkedIn recruiting campaigns.
Costa has 15 years of experience in targeted digital advertising, search marketing and online recruitment advertising. He frequently speaks on topics regarding the innovative use of digital recruitment marketing to change the way organizations find and recruit talent, as well as the challenges and opportunities of today's job market. Before founding HireClix, Neil worked at Monster.com where he managed a $20 million annual budget as part of an internal digital marketing agency responsible for implementing recruitment marketing and advertising campaigns.
Recruiters can register for the free social recruiting seminar or recruiting mixer at http://www.hireclix.com/events or contact Scott Ryan of HireClix at (978) 618-4863 or at scott(dot)ryan(at)hireclix(dot)com.
About HireClix
HireClix, LLC is a digital recruitment marketing agency that helps corporate recruiting teams get practical results by delivering customized recruitment marketing campaigns. HireClix is focused on building employment brands to find quality candidates through innovative recruitment marketing strategies and zealous support. Leveraging search engine optimization, pay-per-click recruiting, interactive advertising and social media, HireClix helps companies move beyond job boards and realize better results on their recruiting budget. Contact HireClix at 888.419.CLIX or by email at contact(at)hireclix(dot)com.
About Indeed
Indeed is the #1 job site worldwide, with over 50 million unique visitors and 1 billion job searches per month. Indeed is available in more than 50 countries and 24 languages, covering 94% of global GDP.
Since 2004, Indeed has given job seekers free access to millions of jobs from thousands of company websites and job boards. As the leading pay-for-performance recruitment advertising network, Indeed drives millions of targeted applicants to jobs in every field and is the most cost-effective source of candidates for thousands of companies.
Indeed is a privately held company founded by Paul Forster and Rony Kahan, with investors including The New York Times Company, Allen & Company, and Union Square Ventures. Indeed has offices in Austin, TX, Mountain View, CA, New York City, NY Stamford, CT and London, UK. For more information, visit http://www.indeed.com.
# # #