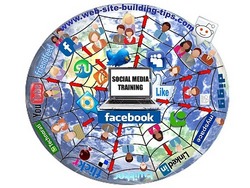 Social networks are a powerful yet completely free web marketing tool that build brand recognition and credibility, works to grow a solid customer base, and increase profits.
Byfield, MA (PRWEB) March 22, 2011
Business owners struggling to master social networking basics can now benefit from free training on how to use Facebook and Twitter to grow their business and increase profits.
Sue Dolan, internet entrepreneur, author, and owner of Web Site Building Tips, an instructional online resource designed for those interested in creating a profitable internet ebusiness, introduces easy step-by-step "how to" tutorials for business owners on using social media sites as a valuable web marketing tool.
"A Facebook Fan Page is essential for any business, no matter how big or how small," says Dolan. "Like it or not, social media sites like Facebook and Twitter are poised to rule the cyber world, challenging Google's long entrenched foothold as the best internet advertising and marketing platform."
"Social networks are a powerful yet completely free marketing opportunity that build brand recognition and credibility, works to grow a solid customer base, and increase sales," explains Dolan. In less than a half an hour literally anyone, no matter how technologically inept, can quickly build a Facebook business fan page using Web-Site-Building-Tips.com's easy point and click online instructions and social network marketing tips.
Dolan's online ebusiness resource and guide, Web Site Building Tips, offers a variety of web site marketing tutorials specifically designed to help businesses navigate the mysterious and confusing world of virtual communities in order to effectively promote their products and services with social network marketing campaigns. "Businesses gain tremendous exposure simply by creating a Facebook business page, and it's completely free." reminds Dolan. Her new social media training tutorial demonstrates the process of setting one up in three simple steps.
The new series of social networking tutorials also describes how to customize a "Welcome to Facebook" business landing page. This popular elearning module teaches business owners how to build a loyal Facebook fan base by personalizing their business page similar to the Coca Cola Corporation, which has earned the distinction of the highest ranked page on Facebook.
According to Dolan, the internet has opened an entirely new virtual world of opportunity for businesses. "In addition to having a website that showcases a business along with its products and services, establishing a social network presence is rapidly becoming just as important to promote growth and profits," states Dolan, who then adds with a wink, "now don't forget to find us on Facebook and follow us on Twitter."
Web-Site-Building-Tips.com is a comprehensive resource designed to help beginners create their own profitable online business, while also providing the technical assistance larger businesses and seasoned entrepreneurs alike need to build a solid online presence.
###