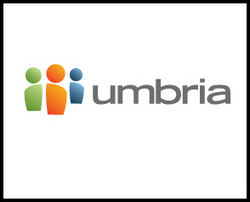 Web 2.0 Meets Marketing 2.0: Making Social Media Work
Boulder, CO (PRWEB) October 31, 2007
Umbria CEO Janet Eden-Harris hosts Forrester Research Senior Analyst Peter Kim to conduct a webinar entitled "Web 2.0 Meets Marketing 2.0: Making Social Media Work" on November 7 at 3:00 pm EST. The webinar explores the importance and growing influence of social media, and how organizations can leverage social media to inform marketing programs including product development, advertising, and competitive analysis. To register for this webinar, visit http://www.umbrialistens.com/forms/landing/webinarNov7.php
The webinar will include new research presented by Peter Kim on the changing landscape of traditional media sources, and the growth and influence of social media. Janet Eden-Harris will explore how online social media can be used to build engaging profiles of consumer segments--from teen gamers to moms, to retirees, as well as illustrate through case studies what can be learned through the analysis of social media.
"The positive and negative opinions of everyday consumers are now captured in blogs and online video, archived and indexed by search engines for the world to see. Segmentation, targeting, and positioning strategies formulated for mass media have limited impact in a world where consumers have access to more information than ever and reinvent themselves across different social networks," noted Peter Kim, Forrester Research Senior Analyst in the July 2007 report, ''Best Practices: Customer-Centric Marketing.''
"Participants in social media are educated, plugged in, often early adopters, and opinionated," added Umbria CEO Janet Eden-Harris. "The result is an extremely rich source of frank, unbiased opinion that can hold important insights for companies."
Professionals working in market research, consumer insights, brand management, product management, advertising and marketing strategy will benefit from this educational webinar.
This webinar is part of an ongoing series on "Harnessing the Power of Social Media," sponsored by Umbria. To register for the November 7 webinar, visit http://www.umbrialistens.com/forms/landing/webinarNov7.php
About Umbria Inc.
Umbria is unique in its ability to assess both what is being said, and who is doing the speaking in the online world. Umbria's patent-pending technology enables the company to classify posts and estimate gender and age of the speaker, as well as rapidly identify and eliminate bogus spam posts. Umbria analyzes voices of the online community by using proprietary Natural Language Processing and machine learning algorithms to dissect the who, what and why of online opinion, offering in-depth insights for some of the world's leading brands. For more information on Umbria, please visit http://www.umbrialistens.com.
###