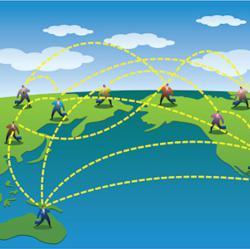 Dallas, TX (PRWEB) October 03, 2011
The survey, presented at one of the most important conferences in the field of economic development in the U.S., involved 307 economic development professionals and was carried out by the International Economic Development Council(IEDC) and Development Counsellors International (DCI). The findings indicate that a growing number of economic development agencies are implementing Social Media. 63% of the professionals confirmed that their organization is using social media since less than one year, while 30% of them said that they have been using social media for 1 to 2 years now. A good number of the professionals recognized that social media will become increasingly important in the coming three year.
The Swiss company in FDI location marketing Global-Arena.com recognizes these findings in its own experience. Two Global-Arena.com analyses carried out end of 2010, "Global Arena FDI social media monitoring research findings" and "Global-Arena.com FDI online marketing", showed that Social Media is becoming more and more relevant for economic development organizations and investment promotion agencies.
According to Mr. Peter Storm, CEO of Global-Arena.com, this transition can be seen especially in the US market, with Europe and Asia following suit. "By leveraging this new focus on social media companies increasingly so can narrow down their site selection of target opportunities that meet their very specific needs and characteristics", Mr. Storm continues. Economic development organizations and investment promotion agencies are also able to present their specific business profile on business marketplaces like the Global Arena platform", Mr. Storm said, "ensuring to attract investors looking for locations with those exact business DNA specifics. A science park thus attracts science investors and highly skilled talent, a manufacturing hub attracts companies focused on production and distribution, a well educated low-cost country attracts services off-shoring and help-desk business, and the list goes on."
In the context of IEDC and DCI recent survey results, Global-Arena.com encourages investment promotion agencies and economic development organizations worldwide to take the leadership and spread the word regarding what the regions and business locations have to offer to investors. If IPAs and EDOs don't communicate the competitiveness and business advantages of their regions for investment attraction, who will?
Additional interesting findings:

41% of the professionals interviewed use social media to communicate frequently or very frequency at regional level, while 30% uses social media with the same frequency to communicate nationally and internationally.
LinkedIn and Facebook, in this order, are considered the most valuable social media to communicate inside and outside their regions.
Social Media are used, within the region to communicate: organization news (28%), Project wins/ Expansions/ Retentions (21%), support for local businesses (19%), and local events (18%).
Economic Development organizations that were mentioned as using social media in the most effective way are: Indy Partnership, Metro Orlando Economic Development Commission, Metro Denver Economic Development Corporation, and Gwinnett Chamber.
###