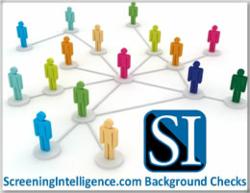 Boston, MA (PRWEB) November 21, 2012
People in need of employment screening services and background checks have expressed their desire to receive the latest news about the background screening industry as soon as possible. To help better the experience of their customers, ScreeningIntelligence.com has launched a full-scale social media campaign so that any customer on any social media network is able to connect with the company in the way that they want to. Past, present and future clients can now receive news updates, feature stories and industry alerts on the following social networking sites: Pinterest, Tumblr, YouTube, Foursquare, Delicious, Google+, Facebook, Flickr, MySpace, SlideShare, StumbleUpon and Twitter.

Pinterest — Find the best info graphics and fact sheets about the background check industry. Customers can easily repin this information to save for future use when ordering ScreeningIntelligence.com services.
Tumblr — On this quick-hit blog, get the latest updates about the company. Photos, graphics and videos can also be seen on this easy-to-use blogging site.
YouTube — Interviews, industry news items and videos created just for ScreeningIntelligence.com customers. Clients will find these videos to be exciting, entertaining and informative.
Foursquare — Customers can keep track of what ScreeningIntelligence.com employees are up to, what industry events they have attended and where they are traveling to for discussions about background screening. Customers can follow other clients as well.
Delicious — When industry events are held at the best restaurants across the country, ScreeningIntelligence.com informs its customers where the events were and what the food was like. Everyone always needs a good restaurant recommendation, especially with a side of employment screening news.
Google+ — Live chat in a hangout session with company representatives. Customers can get answers to commonly asked questions as well as incorporate the company blog into their Google reader feed.
Facebook — ScreeningIntelligence.com posts its latest specials, developments and industry news to its Facebook account on a regular basis. In addition to status updates, customers will find interesting videos, photos and polls on their news feed from the company. Facebook gives clients the opportunity to touch base using posts on the company Timeline as well as private messages.
Flickr — Check out relevant industry photos that help clients with employment screening and background check issues.
MySpace — With a focus on entertainment, MySpace allows ScreeningIntelligence.com clients to connect with the company in a different social venue. Music, videos and other entertainment items that are relevant to the industry are posted on the company MySpace page.
SlideShare — ScreeningIntelligence.com representatives are able to post industry presentations that have been created in house, as well as conference presentations and outside slideshows to this social networking site.
StumbleUpon — This social networking site is a fun way to share facts, information, websites and articles with family and friends about the employment screening industry. It is also an easy way to discover new tidbits of relevant information.
Twitter — For instant company updates, subscribe to the company Twitter feed. Clients will find sales, specials and interesting tidbits on this network.
ScreeningIntelligence.com recognizes that social media is the way of the future, and the way that customers today want to connect with the services they need, use and love. This is why the company that delivers the quickest background checks and employment screening processes has placed the highest priority on social networking. Background screening is essential to today's hiring process, but ScreeningIntelligence.com clients do not always have the opportunity to take the time to visit the company website or read the e-mail blasts. ScreeningIntelligence.com aims to make working with their company easier and more convenient than ever with its latest social media campaign.
About ScreeningIntelligence.com
ScreeningIntelligence.com provides accurate and affordable background check solutions to help employers make informed pre-employment screening decisions. County criminal data is retrieved from thousands of local and county courts in all 50 U.S. States. Pre-employment screening and tenant screening services include: comprehensive criminal background checks, federal background checks, county background checks, sex offender registry search, instant national eviction checks, and social security traces.