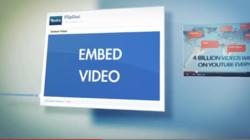 FlipDoc is a truly interactive brochure
(PRWEB UK) 6 February 2013
There are many online brochure products in the market, either converted from pdf or created bespoke to display content as if browsing through a book or magazine. One major issue is these are normally built in Flash to create the page turning feature and display full screen regardless of the device. With iPad, iPhone and other devices not displaying Flash a huge audience is being ignored. Mobile device use for browsing websites is already significant and is rightly predicted to grow at an alarming rate.
FlipDoc is different, it is non-Flash so displays exactly the same across all devices to ensure the company brand identity and marketing messages are consistent. There is also the additional functionality to allow video to be embedded and played directly in the FlipDoc so retention of visitors is greatly enhanced avoiding links to third party video sites.
Hyperlinks can be added to individual text or images to ensure that users can act directly on areas of interest such as links to buy an individual product, sign up to a newsletter or read more information about a specific area. An example football brochure utilises this.
Twitter or Social Media feeds can also be embedded so these update in real time, in fact any news feed or blog can be embedded so the FlipDoc is constantly up to date and relevant to today's news or marketing campaign. An example can be seen on this Video Portfolio.
Layout is completely bespoke so there are no design restrictions, you can add images, text in any font/colour, headings can be styled so the branding can follow your website and other online material. Amendments are also simple and quick to ensure products and information are kept up to date and in line with existing communication. View an interactive photo gallery on this Artist FlipDoc.
More information can be found at http://www.flipdoc.com or telephone 0845 872 8657 to discuss further.