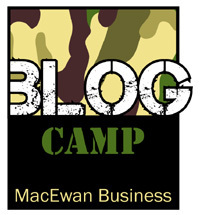 BlogCamp will help Grant MacEwan College break new ground in social media
Edmonton, AB (PRWEB) April 1, 2009
Social media, business and education unite on April 3 at Grant MacEwan College for the School of Business' BlogCamp.
MacEwan BlogCamp is a blogging contest which runs from noon to 9 p.m. in the cafeteria at the MacEwan City Centre Campus and bloggers will have the chance to win a MacBook and other great prizes contributed by Edmonton businesses.
The full launch of the Mike and Lenny videos will also happen April 3. The videos will simultaneously be launched on YouTube.
MacEwan student bloggers will be writing about a variety of business and other topics during the nine-hour contest. It will be broadcast live on the Internet and the blog posts will be going up in real time. The contest winner will be determined by anyone on the Internet who is interested.
Anyone can vote on the bloggers' entries, which will be text, audio, video or photos, or a combination. Everyone can participate by reading the entries during the time the contest is on and simply give a thumbs up or thumbs down to a post. Comments will also weigh in on determining who wins.
"BlogCamp will help Grant MacEwan College break new ground in social media," said Jana Clarke, MacEwan School of Business marketing manager, "and ultimately we're hoping to attract new students to, and interest in, our business management diploma program."
The MacEwan Commerce Club, made up of business students, is playing a big role in helping to promote the contest.
Fusedlogic, an Edmonton social media strategy company, is helping MacEwan School of Business launch the event.
"We're training business students and staff to use social media and how to use it to successfully promote their event," said Walter Schwabe, fusedlogic chief evolution officer, "Students and staff will come out with a solid social media education, which will especially help business students once they graduate."
"Businesses are really beginning to look for graduates with social media literacy," Schwabe added.
About fusedlogic:
fusedlogic is an Edmonton social media strategy company that educates organizations about social media and helps them to establish an effective social media strategy.
About MacEwan School of Business
MacEwan School of Business offers a comprehensive range of programming touching all aspects of the business world. From front-end staff training to executive professional development to international business baccalaureate education - MacEwan School of Business is truly 'well rounded'. Our slogan fits not only with the variety of our program offerings, but also with the quality and caliber of our student-focused faculty and lifelong learning focused students.
###