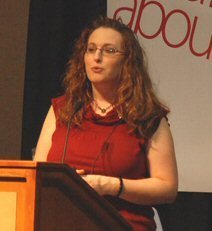 Take the fundamental e-marketing books of our time and mix it in with the content that you get at the big three interactive marketing conferences, it still wouldn't match the quality or value of this program
Scotts Valley, CA (PRWEB) July 21, 2009
Market Motive announced today that Jennifer Evans Laycock of Search Engine Guide and Site Logic Marketing has joined the Market Motive faculty. Jennifer will be teaching social media marketing alongside existing faculty member Matt Bailey to enhance an already stellar faculty.
Faculty Comprises Who's Who Of Internet Marketing
Jennifer joins Social Media faculty chair Matt Bailey and a group that includes Future Now's Bryan Eisenberg, Stuntdubl's Todd Malicoat, SEO-PR's Greg Jarboe and Jamie O'Donnell, web analytics leader Avinash Kaushik, and many more. The Market Motive team delivers streaming training videos, online courses, project evaluation, consultations, workshops, and Internet marketing certification that teaches the latest Internet marketing concepts and best practices.
About Jennifer Evans Laycock
Jennifer is recognized worldwide as a leading authority on search and social media marketing. Jennifer is Editor in Chief of Search Engine Guide and is the author of The Small Business Guide to Search Engine Marketing and of the popular Zero Dollars, a Little Bit of Talent and 30 Days series, and has consulted for companies like Highlights for Children, Verizon, and American Greetings.
"For years, I've admired Jennifer's down-to-earth teaching style that inspires marketers with ideas that can be applied immediately," said Michael Stebbins, CEO of Market Motive, "She is truly a thought leader and innovator in search and social media and we're proud to have her as a faculty member at Market Motive."
How Market Motive Works:
Members view online courses and interact with the all-star faculty to learn the latest Internet marketing practices. After testing and certification, continuing members stay current via consultations and interactive workshops with the top seven online marketing consultants.
"Take the fundamental e-marketing books of our time and mix it in with the content that you get at the big three interactive marketing conferences, it still wouldn't match the quality or value of this program," said Mark Beitz, Certified Web Analytics Master and Marketing Director at Rasmussen College. "The difference is faculty interaction and their desire for students to learn the material. The cost of paying the entire Dream Team a consulting retainer for three months would be in the hundreds of thousands of dollars, however, the type of experience you get is comparable, and at a fraction of the cost."
About Market Motive
Market Motive provides Internet marketing certification courses via web-based video and live interaction with recognized industry leaders.
Course prices range from $299 for basic courses to $3500 for a 90-day Master Certification program that includes evaluated projects, a live webcast graduation, and endorsements from the top authors and thought leaders in Internet marketing.
Annual and monthly memberships are available to groups and individuals for training updates and ongoing consultations with the top seven Internet marketing consultants.
The company also provides consulting services to a limited number of clients. Market Motive was founded in 2007 by Michael Stebbins, John Marshall, and Avinash Kaushik and is based in Scotts Valley, California. For more information, visit http://www.marketmotive.com or call (831) 706-2369.
###