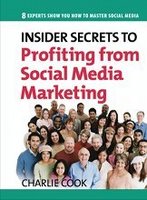 At the end of this program, it will be clear exactly how to turn free social media accounts into more PR, traffic and profits.
Old Greenwich, CN (PRWEB) May 26, 2010
A new home study course in social media marketing shows small business owners how to cut through the hype and generate tons of sales and leads for their business. Charlie Cook of http://www.MarketingforSuccess.com developed the program to help businesses skip the long learning curve and get right to increasing sales.
See what others have said about this course and check out the bonuses worth $450 at http://www.marketingforsuccess.com/socialmedia.html
While many have heard the hype about social media, most business owners are confused about what tactics actually work. Furthermore, many are confused about what tools to use and where to start. For that reason, many have tried and then give up on social media marketing, believing that it is a waste of time. In the process they are bypassing the most powerful marketing engine there is online.
Google is losing traffic to social media sites. Social media is where the action is. Smart businesses are adapting to this new reality. Consider Facebook – a social media site that topped 400 million users this year -- more than doubling in just a year. To date, there are over 300,000 businesses on Facebook. By the end of this year, Generation Y will outnumber Baby Boomers and nearly 96% of them have joined a social media network. Stats further reveal that 78% of consumers trust peer recommendations vs. ads. These facts set the stage for an incredibly opportunity.
In this series, eight top experts give powerful strategies on how to:

Manage social media efforts – learn which tasks can be automated and which need a personal touch.
Choose the right social media tools for a specific target market.
Use social media to improve seo and website traffic.
Generate business while cutting marketing costs and increasing profits.
"At the end of the 2-week training program, it will be clear exactly how to turn free social media accounts into more PR, traffic and profits. The course consists of 8 MP3s along with transcripts of each interview – which is over 8 hours of the best tips and tactics from the experts."
Get the complete insiders' secret to profiting with social media marketing with everything included. Go to http://www.marketingforsuccess.com/socialmedia.html
About Charlie Cook
Charlie Cook wrote one of the first books on how to market web sites to the search engines. His web site "Searchiq.com" was featured on National Public Radio, in "Fast Company" magazine, as well as in "USA Today" and ranked in the top 100 web sites by "PC Magazine." He later sold the site to ZDNet, the largest technology content provider on the internet.
Over the years he has researched and tested marketing principles to create a marketing methodology to help clients pull in a steady stream of clients and profits. He provides marketing and management consulting services to Fortune 500 companies including AETNA, AT&T, Cendant, GTE, and Pitney Bowes as well as mid-sized companies, publications that include Fortune, Hemispheres and Forbes and numerous small businesses.
Thousands of copies of his training manuals have been bought and used by executives, managers and trainers at hundreds of Fortune 500 companies including AT&T, Merck, Chevron, IBM and Boeing as well as by marketing professionals, individuals and entrepreneurs.
# # #