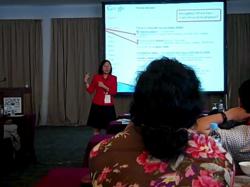 Doctors have busy schedules and some find it a challenge to keep up with changes in social media trends. Many are unsure of what can or cannot be done by medical professionals on Social Media Platforms
Kuala Lumpur, Malaysia (PRWEB) December 22, 2011
Malaysia-based Social Media Specialist Louisa Chan speaks at Pathology/Lab Industry Conference on the subject of Social Media for the medical profession. At the recent conference in Malaysia, Ms Chan explained how Social Media for Doctors and Chiropractors can be used responsibly and effectively to improve practitioners' online visibility.
During the presentation, Louisa demonstrated that many local clinics and hospitals do not show up on Google local searches. Yahoo and Bing local searches are not available in Malaysia so visibility on the Google search engine is critical for gaining new patients and reaching existing ones.
The presentation showed that when clinics and hospitals did show up on Google Local Searches, many had incomplete profile set up with listings that have not been verified. Some doctors at the conference were not aware that Google has put up local listing for their clinics. This happens although Malaysia has a 84.7% reach in Social Networking (ComScore April 2010).
"Doctors have busy schedules and some find it a challenge to keep up with changes in social media trends" explained Louisa. "Many are unsure of what can or cannot be done by medical professionals on Social Media Platforms," she added.
UK-based small business consultant James T Noble consulted with Ms Chan prior to the conference to advise on the publicity opportunity for Ms Chan's business Synergy Marketing Pro.
James worked with Louisa to secure the speaking engagement and recommended strategies for maximising the business benefit of such an event.
"Louisa is a fantastic client who I've helped build a brand new business from scratch in the past few months, based on her extensive knowledge and experience," said Mr Noble.
"Prior to the conference Mr Noble and I discussed ways to get a clear message across so doctors can see the potential of using Social Media Marketing. James also shared effective strategies for following up with the doctors and numerous ways I can use my success at this conference to build my business," said Ms Chan.
At the conference, Louisa showed how easy it is to win over ready traffic who are leaving competitors' websites. Doctors, nurse managers, lab technicians and office managers were shown practical steps they can take to increase their accessibility and online visibility. Participants were advised on the best ways to adhere to Malaysia's industry guidelines and codes of professional conduct.
About Louisa Chan
Louisa Chan has a background in online marketing and helps medical and wellness professionals increase customer base by improving their online accessibility and visibility. Louisa's experience has seen her work with many multi-national corporations - and she also holds public speaking engagements and workshops on Social Media in Kuala Lumpur, Malaysia.
For more information about Louisa Chan and social media for chiropractors and doctors visit http://www.SynergyMarketingPro.com
About James T Noble
James T Noble has helped some of the world's largest brands and companies market their products and services online, including Virgin, Walt Disney Corporation, Coca Cola, Paramount Pictures and many others.
James lives in the UK and works with small business owners worldwide to accelerate their growth through effective online marketing.
For further information about James T Noble visit http://www.JamesTNoble.com
###