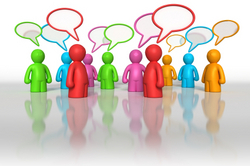 I want to help small business owners see how easy it is to leverage social media in their business
Washington, DC (PRWEB) October 22, 2008
Dave Saunders of http://www.yoursocialbrand.com is proud to announce a new solution for small business owners seeking the best ways to leverage the Internet to grow their business and maintain relationships with their existing clients. This online training system teaches how to use free social media sites to engage the market place for local, regional and even national exposure. A veteran of the Internet industry, Dave Saunders has been helping people leverage concepts like personal branding and personal networking to engage and create relationships that lead the business growth.
"I want to help small business owners see how easy it is to leverage social media in their business," remarks Dave Saunders. " it doesn't matter if you operate a brick and mortar business, work as a consultant or deliver product from your home, social media can be used to enhance your business connect you to your market and it doesn't require a lot of technical skill or specialized knowledge."
"I was looking for a way to generate free leads and grow my online business when I met Dave Saunders through the social media site Twitter," reports Australian Chef Matthew Goudge of http://www.prochef360blog.com. "After diving into his well orchestrated program, I took what I learned and applied his specific recommendations instantly. As a result an immediate positive swing in the growth of site visitors could be seen!"
To help any small business increase their online exposure, Dave Saunders suggests that small business owners open accounts with the following sites to get started with online social media:
1. Yelp.com -- Many small business owners are surprised to find their business listed on yelp.com. Sometimes these listings are highly detailed and include several reviews from yelp.com members. If your business is not listed, create a listing for it but do so honestly as the owner and not as a "fake customer." Feel free to review other businesses in your area as well which shows that you are a part of the local community and increases your credibility within this powerful social community.
2. LinkedIn.com -- Any business owner should have a profile on LinkedIn and use the summary field in the profile to its fullest extent to describe all the business currently does to serve the needs of others. Invite connections from others. Connections in LinkedIn should be viewed as business cards exchanged. However, only give recommendations to other connections if you truly endorse that person. Your own reputation can be tarnished by a mis-given recommendation.
3. Twitter.com -- The potential for this popular service is only just being tested by some companies. Business owners can create local followings who loyally monitor tips, specials and customer interactions that occur in full public view. Many people do not get Twitter.com at first so watch and observe others to find best practices for engaging your market.
Dave Saunders shares additional advice on how to run your own social media plan in less than an hour or two a week in his report, "The Social Media Manifesto" at http://www.yoursocialbrand.com/report
About Dave Saunders
Dave Saunders is an Internet industry veteran with nearly 20 years of professional experience online. He has led technical and marketing teams at Internet Industry giants Ascend Communications and Lucent Technologies and was the co-founder of an Internet business incubator, located in Middleburg, VA, in 1999. He also writes articles on personal branding and professional networking. You can learn more about how he helps small businesses leverage the Internet at http://www.yoursocialbrand.com
# # #