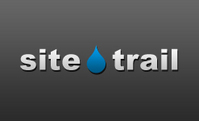 It's a great way to see a quick snapshot of my online world.
Boston, MA (PRWEB) March 8, 2011
SiteTrail, Inc., a new web based startup that connects users to the latest information about their favorite websites is out to change the way people read social media and tech news online. Let's face it, there is a massive amount of technology news floating around the internet today. It is becoming harder and harder to keep track of everything that's happening on the web. SiteTrail fixes this content overload problem by providing a unique experience to its users that enables them to subscribe to or "trail" website specific news content that is categorized by the site's domain name. This trail feature allows users ("trailers") to easily create an aggregated news stream of only the sites that they find interesting and filter out ones that are unexciting. SiteTrail is a "great way to see a quick snapshot of my online world," says Diana Blanchard, a SiteTrail user.
Moreover, SiteTrail also lets site owners write news and articles about their own companies and promote their websites at no cost. "SiteTrail offers free advertising for my web business," says Peter Jackson, a webmaster. However, in order to help ensure the highest quality experience for both users and website owners, owners must follow very strict editorial guidelines before their writing is approved for publication. SiteTrail's editorial staff reviews all articles for quality and accuracy before they are published. For many businesses, SiteTrail has opened up a whole new marketing opportunity.
About SiteTrail, Inc:
Founded in 2010, SiteTrail is the most comprehensive source for breaking social media and technology news on the web. SiteTrail is a social news platform dedicated to helping web enthusiasts keep track of their favorite websites. Reaching over 1.2 million unique visitors and serving more than 1.6 million pageviews per month, SiteTrail is a leading online media property. For more information about the company or to access the SiteTrail social news platform, visit SiteTrail.com.
Press Contact:
Kelly Norris
SiteTrail, Inc.
P: 707-901-7483
press(at)sitetrail(dot)com
sitetrail.com
###