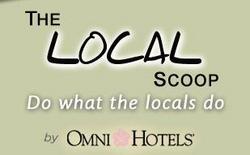 We have connected our guests with those that truly know and love each destination
Naples, FL (PRWEB) May 20, 2008
No one knows a city better than those who call it home. From Pittsburgh's best microbrews to the pet-friendly parks of San Francisco, locals can now share this insider scoop with travelers through Omni Hotels' new online community, 'The Local Scoop.' With the expertise of Neighborhood America, Omni Hotels has built an engaging enterprise social network where local residents can showcase their hometown by sharing stories, posting recommendations and uploading pictures.
To open the dialogue between locals and visitors, readers can comment on the 'scoop' and rate the postings. This online community will further serve to connect travelers with the Omni Hotels - before, during and after their visit - while enabling the brand to continue building relationships online.
"We have connected our guests with those that truly know and love each destination," said Caryn Kboudi, vice president of corporate communications. 'This website will be a constantly evolving resource that travelers can continuously reference for updated information.'
Any Orlando guidebook will offer information on theme parks, but only a local will know where to taste the city's best Sunday brunch. Only a true Chicagoan can lead the way to the area's best shopping beyond the Magnificent Mile. Seeing a city with hometown insight gives visitors a new perspective on a destination.
The customer experience of the online community extends right into the luxury hotel's concierge services. Within 24 hours of booking a 'The Local Scoop' reservation, the concierge will call guests to plan a vacation based on their unique knowledge, as well as what locals suggested. Whether traveling with a family of four or enjoying a romantic weekend away, the concierge's custom itinerary will incorporate the guests' likes with the locals' ideas.
"Omni Hotels is raising the bar for an industry that is dependent upon building sustainable customer relationships," said Dan Miller, Neighborhood America's Executive Vice President. "It is a pleasure to work with this innovative team, which understands that consumer engagement must be part of a fundamental business strategy - one that is developed with the intent to deliver results."
Omni Hotels encourages those that know their neighborhood to share their suggestions. By posting a comment, consumers will be registered for a chance to win one of nine Omni Hotels' weekend getaways. To submit local knowledge, visit http://thelocalscoop.omnihotels.com. Official sweepstakes rules are posted at http://www.omnihotels.com/local.
About Omni Hotels
Omni Hotels creates compelling, memorable guest experiences by tempting the senses in innovative ways, surrounding them with a balanced blend of scents, sounds, sights, textures and tastes. Omni Hotels offers luxury accommodations at 45 hotels and resorts in leading business gateways and leisure destinations across North America. From exceptional golf and spa retreats to dynamic business settings, each location features four-diamond services, including award-winning signature restaurants, Wi-Fi connectivity and unique fitness options. Omni's mission for total customer service is further supported by its "Power of One" program that empowers associates to make on-the-spot decisions to meet or exceed guest expectations. Guests can locate hotels and book accommodations by visiting http://www.omnihotels.com or by calling 1-800-THE-OMNI.
About Neighborhood America
Neighborhood America's 'Software as a Service' solution is designed for companies that want to capitalize on the phenomenon of social networks for business gain. Founded in 1999, the company enables its customers to build online and mobile communities to engage consumers, facilitate ongoing dialogue around their brand, and gain continued business intelligence. Customers select Neighborhood America for its award-winning technology and commitment to guide them through the entire process - from strategy, through implementation, to ultimate success. Learn why enterprises including Scripps Networks, FOX News and Omni Hotels are turning to Neighborhood America to gain a competitive advantage by visiting: http://www.neighborhoodamerica.com.
###