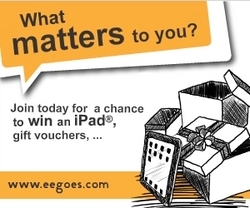 eegoes enables you to reach an organised audience, grow connections, and find content that matters to you.
Boston, MA (PRWEB) September 14, 2010
New social network eegoes today celebrates its official public launch with prizes including an iPad and gift vouchers on offer for members. eegoes has been in private invitation-only beta since May 2010, whilst the platform was finalised and seed funding was secured.
Designed to bring a more userfriendly 'sharing' concept back to social networking, eegoes organizes and categorizes all content posted by members. Its slogan 'what matters to you?' promotes its ethos that social should not only allow you to discuss and share your interests with the world, but to allow you to search and discover more content relevant to them and find others with similar passions.
Many social media users feel overwhelmed by large uncontrolled amounts of data reaching them daily, and eegoes puts some order back into this wealth of content and arranges it to help users start to get more out of 'sharing' and 'finding' again.
Founders Guillaume Molter and Al Zane are optimistic, despite heavy competition, as they feel eegoes brings something different to the table, although they point out the service is still in development and will remain in beta for now as more functionality is added.
Molter explains, "One of the key characteristics of eegoes distinguishes is its keyword tagging functionality for all posts, from events, links and videos to personal profiles. This means that, as a user, I can not only search for links, videos and photos about cars, but also for others who are enthusiasts and connect with them. More exciting geolocation functionalities are currently in the process being implemented and will become a reality once the upcoming mobile applications are shortly released. The eegoes service has been designed around geolocation features, which means that I will soon be able to look for car enthusiasts who are close to me or close to a particular event such as an upcoming motor show which I've posted."
Al Zane, his co-founding partner, says, "This is where the true strength of eegoes lies, in helping users develop their interests by locating resources and connecting to others. For us, eegoes is not about connecting with old friends who you have little in common with aside from your past, but finding new interesting people, who share your interests so that you can exchange ideas on issues you care about or even develop them eg into a business project or initiative. eegoes enables you to reach an organised audience, grow connections, and find content that matters to you."
The service even has a 'Have you Met Ted' service whereby the site recommends people to users based on common interests and proximity to each other.
For today's launch, a quirky animated introduction video is already working its way around the web. All new sign ups make one post into a dedicated group to gain entry to the prize draw for an iPad and have a chance to win gift vouchers for iTunes and Amazon.
About eegoes: eegoes.com is a new generation of social networking site, whose aim is to provide a user-friendly and innovative platform for social interaction. Users can enjoy discussions around their areas of interest and exchange links, videos, photos and more. eegoes is structured around categorized 'Networks' which are themed into Travel, Sports, Music and more. Within these, users can also create their own 'Groups' where they can host discussions.
For more information on the Launch Competition including the draw for an iPad, iTunes, and Amazon gift vouchers, sign up now on http://www.eegoes.com/signup.
# # #