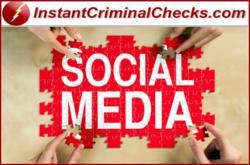 Using social media, customers can get the information they need whichever way they prefer to receive it.
Boston, MA (PRWEB) December 17, 2012
With a priority on customer service and ease of use, InstantCriminalChecks.com has launched 12 accounts on social media sites. These profiles are designed to allow clients to get the information they need on employment background checks and criminal background checks when they want it and how they want it.
The company now has a presence on the following sites:
LinkedIn: As the most widely-used professional social network by employers, InstantCriminalChecks.com finds this to be an imperative social network presence. The company's profile allows employers to find the services they need when it comes to criminal background checks in order to make the best decision for their respective companies.
Technorati: As a search engine for blog posts only, Technorati users are able to find the most relevant blog posts available. InstantCriminalChecks.com posts its blogs to this site so anyone interested in the best, most reliable employment background checks have access to company information.
Manta: Users who want the best information on small businesses go to Manta to get it. The InstantCriminalChecks.com profile allows interested clients to view business hours, services, contact information and other relevant business information.
MySpace: Company representatives have designed a fun, friendly place for customers to hang out together.
Flickr: Photos that are relevant the background check information can be found on this network.
SlideShare: Informational presentations are posted to this site so users can avoid sitting through long phone conversations with customer representatives.
Twitter: Throughout the day, those interested in criminal background checks will get the latest news tweeted straight to their Twitter feeds.
YouTube: Specifically geared toward visually-minded customers, information videos, instructions and interviews are posted to this InstantCriminalChecks.com profile.
Facebook: As one of the most popular social networking sites, those who like InstantCriminalChecks.com will get photos, status updates, promotional information and breaking news on their news feed.
Tumblr: InstantCriminalChecks.com realizes that many people today are in a time crunch, so Tumblr is used to provide quick blog information to past, present and future clients.
Google+: A truly interactive zone, InstantCriminalChecks.com customers can hang out with company professionals and get the information they need instantly.
Pinterest: An up-and-coming social networking site, those who follow the company's pinboards will see daily updates with interesting tidbits and tips for getting the best employment background check information.
About Instant Criminal Checks
InstantCriminalChecks.com offers background checks for employment screening that range anywhere from $15 to $60, giving you the affordable options that you need. Whether you need state criminal background checks or a national criminal background check, InstantCriminalChecks.com is equipped to provide you the information you need in only seconds. For more information about ordering criminal background checks, visit the website at http://www.InstantCriminalChecks.com.