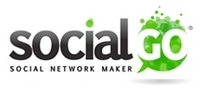 New York, NY (Vocus) November 10, 2010
Social networks have become the new way to inspire political involvement. For the recent midterm elections in the U.S., social networking sites like Facebook, Twitter and Foursquare made it easy for members to tout their "I voted" status on their page, thereby encouraging others to go out and do the same.
Americans who logged onto to Facebook's homepage on Nov. 2 were immediately greeted with an Election Day box, from which they could locate their registered polling place, or simply hit the "I voted" button if they had already done so (or even if they hadn't, they could make their friends think they had), which was directly displayed in their news feed. Also in the box was a list of all their friends who'd cast their vote that day.
Before social networking became a top communication tool for 18 to 35 year olds, MTV encouraged young people to go out and "Rock the Vote" with its man-on-the street campaigns, concerts and commercials. Now, however, all one has to do is turn on his computer to be reminded of his civic duty.
Other countries and political causes have also gotten savvy to the perks and reach of social networking. In France, former prime minister Dominique de Villepin has created his own social networking site for supporters to share ideas and give feedback for his 2012 run for presidency. However, instead of simply starting a limited "fan page" on Facebook, he recruited social network builder SocialGO to make him a custom site, where people can post questions, concerns and thoughts in a number of forums, as well as engage in one-on-one and public conversations within this online community.
While traditional social networks, like Facebook and Twitter, are good for putting mainstream ideas like "vote" into the public sphere, these custom-made sites are better for gathering like-minded individuals together for a specific cause or platform. Whatever the agenda, however, politicos can't deny the important role social media will continue to play in the future.
###