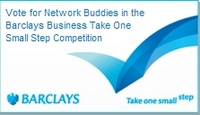 Users of social networks should be rewarded for helping to make those social networks as popular as they are.
(PRWEB) May 30, 2010
Plans were announced today to begin concept development of the first social network to offer item rewards and cash rewards for member participation. The announcement comes from Mohammed Walji of the start-up Network Buddies, which has entered the business idea in this year's Take One Small Step business development competition hosted by Barclays. The business idea centers on a reward system that offers prizes and cash to Web users for doing what they love and what they spend hours per day doing already.
The Network Buddies concept first came about while researching the popularity of social networks such as Facebook and Twitter. Statistics from a Nielsen media research study earlier this year suggest that the average user spends roughly 7 hours per month on Facebook alone, with some users spending as much as 55 minutes per day. Users also spend 2 to 3 hours on additional social networking sites such as Twitter and YouTube. Network Buddies concept founder Mohammed Walji says this is a perfect opportunity for users to get something back from the major social networks that they help to make popular. "Many social networks make billions of dollars per year on advertising and services driven by members, but few do anything to share that revenue with members. Unfortunately, members are hardly ever rewarded for helping to make social networks as popular as they are," says Walji. "Why should social networking users not be compensated or rewarded for their continued support? The Network Buddies idea seeks to close this gap by creating an International space where members can get rewards, including cash rewards, simply for logging in and participating. If they're going to do it on a daily basis anyway, they might as well have the opportunity to get a little more for their time and support."
The Network Buddies concept will be based on a point reward system. Users will have the ability to earn points for every action they take on the social network, from signing up and logging in to more common actions like commenting on a photo. The point reward system may also allow users to earn points by referring friends or viewing sponsor ads. Users will then be able to convert their points to get rewards (brand name merchandise, electronics and some consumer services may be among prizes offered) or convert their points into cash rewards. Such a reward system can be beneficial for recreational users who are interested in connecting with friends and family online and are looking to own the latest gadgets, electronics and home items. Hobby income earners, regular affiliates and even students can gain side income through the reward system for their referrals. The Network Buddies reward system can also benefit business owners who use social networks to promote their businesses on a daily and weekly basis through cash rewards, items or services that can be used in their offices and premium advertising space. With the number of hours that recreational users and business owners alike already spend on social networks, there is a significant opportunity to get rewards, money and exposure for their time
Network Buddies is currently looking for Web users who enjoy social networking to support the idea. The more the idea is backed during this preliminary phase of the Barclays Take One Small Step business development competition, the better its chances of becoming a finalist. The winning idea will be awarded 10,000 Euros in development funding, as well as professional business development services from Barclays. Network Buddies is seeking 4,000+ votes to help make its concept of the first social network to offer rewards a reality for Web users across the world, and has already gained the support of 550 voters. Says Walji of the social networking rewards idea, "If you enjoy playing around on sites like Facebook in your spare time, then you should be rewarded for the constant support you're giving to that site. Network Buddies will offer this opportunity. The more time you spend on the site, the more points you'll earn. The more points, the bigger and better the rewards will be. If you're going to spend hours per day or per month using social networks, they might as well be doubly productive hours." Social networking fans can show support for this business idea in the 2010 Barclays competition by backing the idea on the competition entry page and sharing with friends via their favorite social networks and social bookmarking sites, or by scrolling right in the website below and submitting the quick form. Voters can also leave comments with suggestions for features that can be added once the social network begins development. For more information, please visit http://bit.ly/rewards-for-social-networking
###