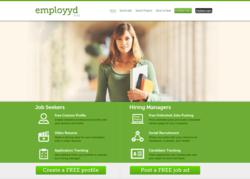 The multi-featured Employyd application allows hiring managers to push job ads to their Facebook, Twitter, and LinkedIn accounts.
New York, NY (PRWEB) March 31, 2013
Social recruiting has been on the rise in the past few years with apps like LinkedIn and Facebook leading the pack. Posting jobs on some of the larger job boards can be expensive for small businesses with modest budgets, costing as much as $399.00 per job posting. Cheaper alternatives don't offer reliable results and often invites spam.
To fill this void, employyd.com launches a new Social Recruitment Application which offers unlimited free job posts while in beta. Employyd app is designed to help small businesses take advantage of a feature-packed, branded job portal to make hiring processes more efficient and effective.
Employyd.com is a cloud-based platform-as-a-service solution that requires companies to sign up for a branded account. Companies can invite unlimited users from their business to participate in the recruitment process. This multi-featured application allows recruiters to push jobs created in employyd.com to their social media accounts on LinkedIn, Facebook, and Twitter.
The application automatically matches jobs with relevant candidates to assist recruiters in finding the best talent available in the market. Employyd's iPad and Android tablet apps allow recruiters to manage their job posts and view profiles of candidates who have applied for their jobs. Most importantly, employyd.com takes advantage of multi-media so candidates can post video resumes which makes it easier for recruiters to screen candidates.
Employyd allows job seekers to create custom profile and upload text and video resumes. Candidates can search for jobs that match their criteria and submit their applications through employyd's secure web and mobile platform. Most job portals fail in acknowledging candidates when their applications have been viewed. Employyd keeps it transparent and lets a candidate see when their profiles have been viewed by a potential employer.
Employyd's product road map includes smart phone applications for iPhone and Android, introducing unique networking tools for employers to connect with job seekers, and enhanced integration with the social media platforms. Employyd will be offered on a monthly subscription based model to employers with a low-cost pay-as-you-go option. But for a limited time only, while in beta, employers can sign up to post unlimited free jobs. Companies signing up in the beta phase will also receive special pricing at the time of official launch.
Visit http://www.employyd.com to get registered and start taking advantage of this newest social recruitment app. "Employyd" mobile application for iPad and Android tablets can be downloaded from Apple app store and Google Play.